We Live Again is the winner of PSL Elisa Esports PUBG Winter Challenge!
Epic 18 map final concluded the PSL Elisa Esports PUBG Winter Challenge and we have new champion, We Live Again! The Russian-Kazakhstan roster battled their way to grand final through all seven rounds and took the biggest prize away from the invitational teams.
We Live Again walks away with 6500€ prize. PolishPower in second place won 4500€, Adepts in third place won 2500€ and new Raise Your Edge roster (ex- TORNADO ENERGY) won 1500€.
Next PSL season, named PSL Elisa Esports PUBG Spring Challenge is already released and more info about that you can find here or by following our twitter.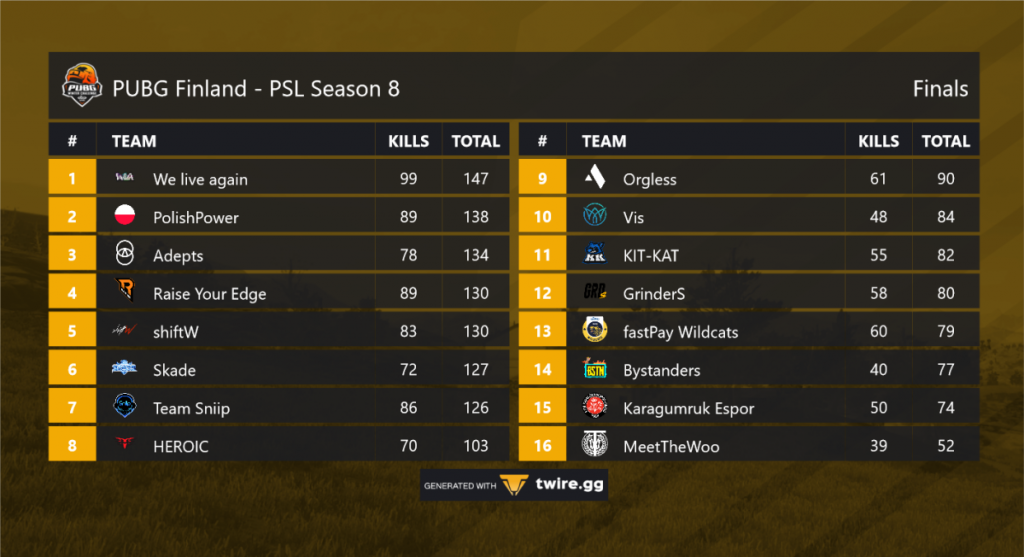 We Live Again interview
Let's start with a classic: How does it feel right now?
We feel emotionally exhausted after all these games.
Grand finals were very close and tight the whole time. Was it a surprise to you that the final lobby was this even?
We felt every team very competitive and equal to each over. So that was not a surprise that it will be a tough one.
What made you perform better than the competitors when it mattered the most?
It was fate.
You grinded through 7 rounds of games. How does it feel to leave all the invitational teams behind you?
Maybe it even helped us someway. We could adapt to some teams which we played within all these rounds.
What are your next goals and plans for the rest of the year?
We are planning to participate in PCS obviously. Will be training hard until this day.
Anything else you want to say for your fans or anyone involved with PSL?
We want to appreciate everyone who was involved for the opportunity to participate in this tournament. We also want to say THANK YOU to all our fans who believed in us during this event. Our team will do the best to not disappoint you in the future.