Elisa Masters Espoo 2023 – Studio Phase results
Following two days of intense Counter-Strike 2 matches held at Elisa's state-of-the-art studio, the teams who have earned their coveted spots at Espoo Metro Arena including HAVU, ENCE, MOUZ, GamerLegion, FURIA, and APEKS.
However, despite their best efforts, Complexity and FNATIC didn't secure spots to the Arena this time. We're looking forward to seeing how things unfold next year and want to give them a big shoutout for being part of the event! Thank you, fellas!
The Quarter-Finals are set to kick off tomorrow at Espoo Metro Arena, setting the stage for an escalating showdown that culminates in the BO5 Grand Final scheduled for this Sunday.
Join us for the weekend either live or on Twitch!
Wednesday's Results:
ENCE vs. HAVU (BO1): 6-13
GamerLegion vs. FNATIC (BO1): 13-8
HAVU vs. GamerLegion (BO3): 2-1
ENCE vs. FNATIC (BO3): 2-1
Thursday's Results:
MOUZ vs. Apeks (BO1): 16-19
Complexity vs. FURIA (BO1): 8-13
Apeks vs. FURIA (BO3): 2-0
MOUZ vs. Complexity (BO3): 2-1

Friday's Matches:
GamerLegion vs. ENCE
FURIA vs. MOUZ
Watch the games at our Twitch Channel's:
English stream
Finnish stream
Tickets, Schedule and more information about Elisa Masters Espoo 2023 can be found at elisamasters.com.

See you at the Espoo Metro Arena, doors will open at 2 PM!
Elisa has signed a co-operation agreement with the City of Espoo. The agreement brings the Elisa Masters Espoo 2023 event to the Espoo Metro Arena on November 29 – December 3, 2023. The event gathers together esports enthusiasts, professionals and spectators from around the world. The first Elisa Masters Espoo event organized last year was a success, and it gathered more than 8,000 visitors to the venue.
Elisa Masters Espoo will be held for the second time at the Espoo Metro Arena on November 29 – December 3, 2023. The event will feature a total of eight top teams, who will claim their place either by invitation or based on their previous success. In the upcoming event, both GamerLegion, who triumphed in the Elisa Invitational Winter 2023 season and secured the second spot in the Major tournament, as well as the yet-to-be-decided winner of the ongoing Elisa Invitational Spring 2023 season, will be among the competing teams. In addition, the event will also feature the Finnish Champion, who will be determined in the Elisa Esports eSM 2023 tournament held in August.
"Elisa Masters succeeded in establishing its position as one of the flagship events in the Counter-Strike competitive calendar. We are excited to be able to expand our partnership with the City of Espoo and continue to strengthen the esports culture. The event offers an exceptional opportunity for Finnish talent to shine on a global level", says Mika Lepistö, Director of New Business Development and Partnerships at Elisa.
Elisa Masters Espoo 2023 starts on November 29th with the Studio Phase. The Group Decider matches and Playoffs can be followed live at the Espoo Metro Arena on December 1 – 3, 2023. Elisa brings its game and technology innovations as well as a fast 5G network connection to the event, which guarantees an engaging and unforgettable experience for visitors on site and viewers following from home.
The City of Espoo, known for its vibrant and tech-savvy community, is looking forward to organizing a groundbreaking esports event in co-operation with Elisa. The co-operation emphasizes the city's commitment to promoting technology, innovation, and a dynamic environment for esports enthusiasts and consumers.
"Esports is an important part of digital culture and the spearhead of game culture. For Espoo, it is important not only to have a successful and communal experience in the event itself, but also to reach a wide player community and create links for players to esports clubs, education and working life. This is part of our work to develop the gaming industry cluster in Espoo", commented Mervi Heinaro, Deputy Mayor for Economic Development, Sports and Culture, at the City of Espoo.
The previous Elisa Masters Espoo event was held in November 2022, and it received overflowing praise as a stage for high-level esports competition. The event brought together esports enthusiasts, professionals, and spectators from around the world. The success of the Elisa Masters Espoo 2022 event laid the foundation for the starting partnership with the City of Espoo.
Elisa Masters Espoo 2023 in a nutshell:
Elisa Masters brings the world's top players to Espoo
The group matches will be played in the Studio Phase on November 29 – 30, 2023

Two four-team Double Elimination brackets (opening matches Best-of-1, rest Best-of-3)

The two best teams in the groups advance directly to the Playoffs

Group Decider matches and Playoffs will be played in front of the crowd at Espoo Metro Arena on December 1 – 3, 2023

One four-team Single Elimination bracket (Best-of-3)

Teams:

GamerLegion (Elisa Invitational Winter 2023)

Winner of Elisa Invitational Spring 2023

Winner of Elisa Esports eSM 2023

$200,000 prize pool
The event is not recommended for family's youngest
Tickets and more info about the tournament can be found at elisamasters.com

Tickets: elisamasters.com
The tournament can be followed in English from Elisa Esports' Twitch channel twitch.tv/elisaesports
For the latest news regarding everything Elisa Esports, follow @elisaesports on Twitter and Instagram!
Johannes "tabseN" Wodarz
Tizian "tiziaN" Feldbusch
Florian "syrsoN" Rische
Nicklas "gade" Gade
Nils "k1to" Gruhne
Nikola "LEGIJA" Ninić (coach)
Current form
The ever-so-consistent BIG has been hovering around the Top-10 spot all year long. Even after one of their stars "XANTARES" leaving the team and "gade" replacing him, the results have still looked promising. BIG's great preparation and solid team play make them always tough to play against.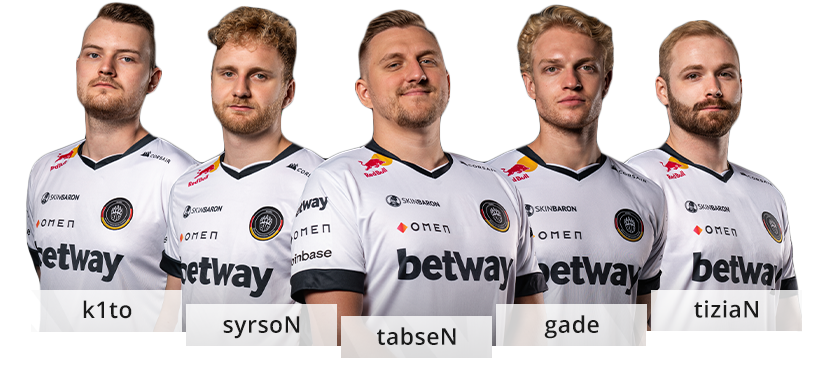 Player to watch
The in-game leader and star of the team "tabseN" is what BIG is. He's played in the team for almost 5 years with numerous different results. He's taken steps back, allowing his teammates to shine and now he's taking some space again and fragging out since that is what's needed from him. Need a big play? TabseN will deliver.
What would winning take?
BIG is definitely coming in as one of the favorites of the tournament. Winning will take more from the other four players excluding tabseN. If BIG has enough time to prepare for their opponents, they can beat anyone.