Elisa Masters Espoo '22 is full of activities – here's a list of Partner Booths!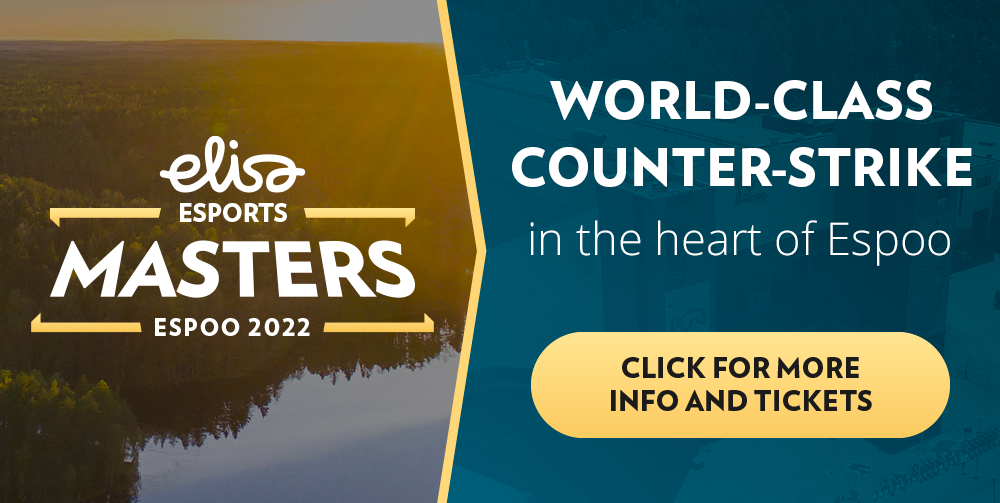 Elisa Masters Espoo '22 is right around the corner, and soon the Espoo Metro Arena looks like nothing before – it will be full of esports enthusiasts and CS:GO fans. We want to make sure that everyone enjoys every minute of the event and our partners help us by bringing lots of activities to the Arena.
ENCE
The big ENCE booth is near the main entrance and it is open to visitors during the whole event. The whole booth is branded to ENCE's and their partners' colors, and there is lot to do for the whole event!
There is multiple PC gaming stations where visitors can try their CS:GO skills with different challenges and there is a chance to win amazing prizes. Also the ENCE Shop is open throughout the event.
With the cherry on the top, on Saturday there will be a meet n' greet with ENCE Academy team and ENCE's main CS:GO roster where you can get a pic and a signature from your favorite players. The schedule for the meet & greet will be announced later, so stay tuned.
VILPE
We all know that people from VILPE are true esports fans, and you can meet them at Elisa Masters Espoo '22. At their booth you can find a photography wall where you can take your perfect event photos. CS Keisari is also found at VILPE's booth, and they bring you a chance to win CS:GO Skins by playing skinpong! CS Keisari also provides thundersticks for visitors so we all can make some noice!
City of Espoo
Get to know the city of Espoo and the Finnish esports history.
HAVU & Kotipizza
HAVU and Kotipizza have joined forces for Elisa Masters Espoo '22, and together they bring a lot of activities for the visitors! During the happy hour you can spin the Kotipizza's Pizzaroulette and win prizes, meet and challenge HAVU's influencers in 1 vs 1 games and meet HAVU CS:GO team in a meet & greet. The schedule for meet & greet will be announced later.
Incoach
At the Incoach's booth you get the best tips for gaming from professional coaches, and you can challenge the coach or your friend in 1 vs 1 games. There's also a CS:GO time challenge, and the winner gets a trophy home!
Keenetic
Enjoy the great atmosphere and take a minute to chill at Keenetic lounge!
KAMK.GG
KAMK's booth is a perfect place whether you want to challenge your friends or you just need a place to relax: KAMK is offering a full 1v1 challenge setup where you can play a friendly CS:GO matchup or try their luck at the official Surfshark 1v1 Tournament on Saturday. On Sunday there is a chance to challenge special guests in games!
Also the Aim Lab Challenge will be running continuously during venue opening hours, and those with the highest score at the end of each day have the opportunity to win product carepackages from KAMK's partners.
If you need to relax a bit, KAMK is offering a relaxed console gaming zone provided by Genelec, which includes a comfortable couch, immersive speaker setup and PS5.
Those who participate in any of KAMK.GG activities have a chance to win amazing prizes throughout the event weekend. Also visitors can learn more about one of Europe's-only full BBA degrees offered in Esports Business at Kajaani University of Applied Sciences!
Omnia
In Espoo Metro Arena you have a chance to learn more about Omnia and the possibilities to study there. You can challenge Omnia's students on 1v1 CS:GO matches.
Nokia
Nokia brings Nokia Student Network Hackathon finals to Elisa Masters Espoo '22. The 24-hour event will start at 17.00 on 18 November at Metro Arena. The competing teams are creating solutions for a new challenge. The themes of the challenges lay in our responsibility to develop technology to address the world's challenges.
Kitchen Joy
Prepare your tastebuds for incredible flavors, because Kitchen Joy is coming to Metro Arena with tasty Thai Cubes. Try different kinds of Thai Cubes and find your favorite!