Elisa Masters Espoo 2023 – Viewer's & Visitors Guide
Welcome to the official Guide for the Elisa Masters Espoo 2023! As we gear up for another riveting tournament, this guide will provide you with all the essential details you need to follow the action.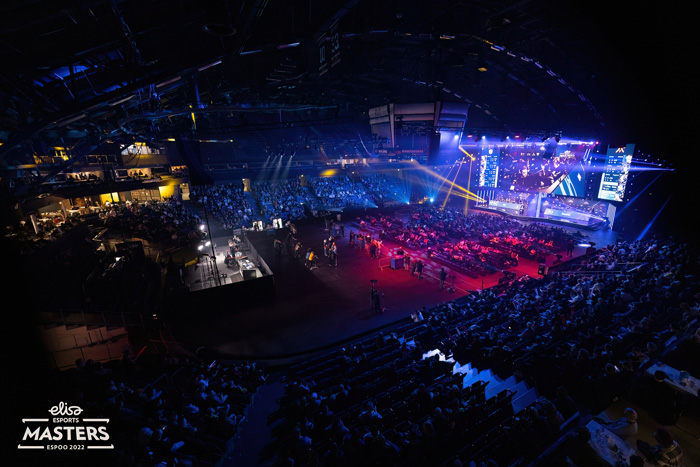 Arriving to the Espoo Metro Arena
Espoo Metro Arena is located in Urheilupuistontie 3, 02200 Espoo. You can arrive by public transportation or by your own car.
Public Transportation
Use HSL Route planner for the best options.
Closest metro station: Urheilupuisto, about 500 meters away.
Local buses: The lines within Espoo that pass by Metro Areena are 114 Tapiola (M)-Leppävaara,115 Tapiola (M)-Mankkaa and 119 Tapiola-Niittykumpu. There are also other lines running near Areena along Merituulentie.
From Helsinki-Vantaa airport, you can easily get to the Helsinki railway station by train and from there by metro to Urheilupuisto station.
Own Car
Limited free parking available. Next to Urheilupuisto metro station, there is a parking space with ten charging points for electric cars, offering convenient access (approximately 500m) to the Espoo Metro Areena.
Partnership with Taksi Helsinki
Convenient taxi service to the Arena with our partner, Taksi Helsinki.
Entering Espoo Metro Arena
Tickets: Purchase in advance, no door sales. Buy online at elisamasters.com.
Entrances: Main entrance for Lower Seat, Drinking Seat, Drinking Floor Seat and Floor Seat tickets; Club doors for Legendary and Premium VIP tickets.
Security: Be ready for bag checks at the gate. Prohibited objects, substances, and foods/drinks are removed at the doors during the entrance inspection. Importing food into the Arena is only possible for health reasons.
Accessibility at Metro Areena
Metro Areena is committed to ensuring an enjoyable experience for all guests, including those with reduced mobility. Conveniently, handicapped parking spaces are located near the main entrance, making access easier. Additionally, an elevator is available for guests' use, ensuring smooth and comfortable movement within the venue. All events hosted at Metro Areena are designed to be accessible. For added convenience, accessible restroom facilities are also provided to accommodate our guests' needs.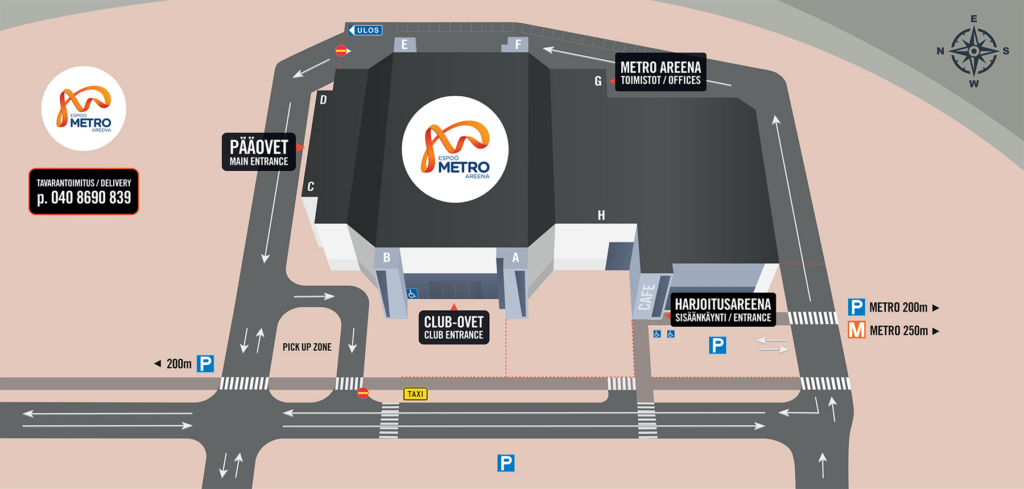 Schedule
Studio Phase
Wednesday 29.11. – Group A
13:00 EET: Opening Match #1 (BO1) – ENCE vs. HAVU
14:00 EET: Opening Match #2 (BO1) – GamerLegion vs. Fnatic
17:00 EET: Winners Match (BO3) – TBD
19:30 EET: Losers Match (BO3) – TBD
Thursday 30.11. – Group B
13:00 EET: Opening Match #1 (BO1) – MOUZ vs. Apeks
14:00 EET: Opening Match #2 (BO1) – Complexity vs. FURIA
17:00 EET: Winners Match (BO3) – TBD
19:30 EET: Losers Match (BO3) – TBD
Arena Phase
Friday 1.12.
14:00 EET: Doors Open
16:00 EET: Group A Decider Match (BO3)
19:00 EET: Group B Decider Match (BO3)
Saturday 2.12.
14:00 EET: Doors Open
16:00 EET: Semi Final #1 (BO3)
19:00 EET: Semi Final #2 (BO3)
Sunday 3.12.
15:00 EET: Doors Open
17:00 EET: Grand Final (BO5)
Teams
An impressive lineup of teams is ready to compete for the trophy:
Invite Teams
Adversaries
GamerLegion: Securing their spot through the Elisa Invitational, GamerLegion is prepared to showcase their skills and determination.
Apeks: Another qualifier from the Elisa Invitational, Apeks is eager to demonstrate their growth and competitive edge.
HAVU: The Finnish champions from Elisa Esports eSM 2023, HAVU is ready to contend on their home turf.
Groups
| | |
| --- | --- |
| Group A | Group B |
| ENCE | MOUZ |
| GamerLegion | Complexity |
| Fnatic | FURIA |
| HAVU | Apeks |
Talents
Studio Phase Casters
Arena Phase Talents
Finnish Broadcast Casters
Explore Espoo
While in Espoo for the tournament, explore the city with our "Visitor's Guide to Espoo," offering great tips on dining, sightseeing, and experiences. Find the guide here for a delightful stay.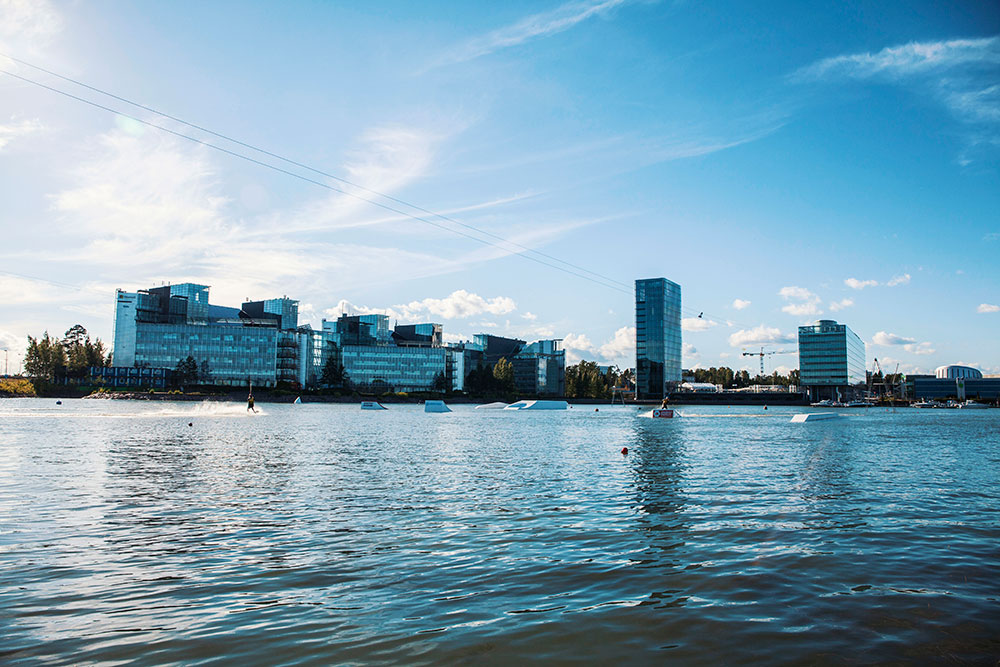 Official Studio Phase Watch Parties
In addition to the live excitement at the Espoo Metro Arena, we are thrilled to announce the Official Studio Phase Watch Parties for #ElisaMasters. Thanks to our collaboration with Tornion panimo, fans in Helsinki and Tampere can join the thrill of the tournament in two fantastic locations:
Arkade Bar, Kalevankatu 30, Helsinki
Bar & Cafe Lategame, Kuninkaankatu 19, Tampere
Special Accommodation Offer at Hotel Matts
Hotel Matts offers a -15% discount on accommodations for esports fans from 27.11. to 4.12.2023. Use the code ALLESPORTS23 when booking on the Hotel Matts website.
Join us for an unforgettable esports experience at the Elisa Masters Espoo 2023, whether attending in person or tuning in online. Stay updated with the latest information as we draw closer to the event date!
The last Finnish Champion of CS:GO will be crowned at the Assembly Summer 2023 Main Stage this weekend! Four amazing Finnish teams will fight for the victory, the title of Finnish Champion and a spot to the Elisa Masters Espoo 2023 event played in November and December.
What?
Elisa Esports eSM 2023 – The Finnish Championship tournament in CS:GO
Where?
When?
3rd to 5th of August 2023
How can I follow?
Prizepool
Teams
JANO (Elisa Open Suomi Season 4 winner)
ENCE Academy (Elisa Open Suomi Season 4 finalist)
HAVU (Elisa Open Suomi Season 5 finalist)
Enhanced (Elisa Esports eSM 2023 Last Chance Qualifier)
Schedule (in EEST)
| | |
| --- | --- |
| Thu 3.8.2023 at 13.00 | HAVU vs. Enhanced |
| Thu 3.8.2023 at 17.00 | ENCE Academy vs. JANO |
| Thu 3.8.2023 at 21.00 | TBD vs. TBD (Upper Bracket 1) |
| | |
| --- | --- |
| Fri 4.8.2023 at 11.00 | TBD vs. TBD (Losers Bracket 1) |
| Fri 4.8.2023 at 14.30 | TBD vs. TBD (Losers Bracket 2) |
| | |
| --- | --- |
| Sat 5.8.2023 at 14.30 | TBD vs. TBD (Grand Final) |


Elisa Open Suomi 5. kausi alkaa huhtikuun loppupuolella. Kausi pelataan kahdeksan joukkueen voimin, joista kuusi kutsutaan suoraa mukaan, ja kaksi karsii tiensä 15.-16.4. järjestettävistä avoimista karsinnoista. Voit ilmoittautua karsintoihin täällä.
Tulevalla kaudella nähdään jälleen Suomen kovimpia joukkueita. Kutsujoukkueet ovat jo selvillä: Viidennellä kaudella mukana ovat HAVU, JANO, ENCE Academy, VISU, Enhanced sekä FCottoNd.
HAVU
Suomen ehdottomaan kärkeen kuuluva HAVU on ollut mukana useilla Elisa Open Suomi -kausilla, ja juhli Elisa Open Suomi 3. kauden voittoa liveyleisön edessä Elisa Masters Espoo '22 -tapahtumassa pelatussa finaalissa. HAVUn joukkue on kevään aikana käynyt läpi useita muutoksia, mutta on viime aikoina näyttänyt potentiaalinsa myös uudella rosterilla.
JANO
Lantrek 2023 -tapahtumassa JANO sai mukaansa Elisa Open Suomi 4. kauden pokaalin sekä paikan Elisa Invitational -turnauksen Main Swiss -vaiheeseen. Joukkueesta löytyy niin kokeneita konkareita kuin tuoreempiakin nimiä, ja JANO on tuoreen taipaleensa aikana vakiinnuttanut paikkansa suomalaisten CS-fanien keskuudessa!
ENCE Academy
ENCEn akatemiaprojekti on jo kahdella Elisa Open Suomi -kaudella selvittänyt tiensä finaaliin, ja näyttänyt, että projekti todella kantaa hedelmää. Pystyykö tulevalla kaudella ENCE AC viimein saavuttamaan myös ykköspaikan?
VISU
VISUn CS:GO kokoonpano pelasi aiemmin Conquerin nimen alla. Viime kaudella joukkue selvitti tiensä pudotuspeleihin saakka, mutta finaali jäi vielä haaveeksi. Joukkue on haastanut onnistuneesti Suomen kärkinimiä, ja odotukset myös tämän kauden osalta ovat korkealla.
Enhanced
Enhancedin nuori kokoonpano onnistui taistelemaan tiensä viime kaudella pudotuspeleihin saakka, ja on selvää, että näillä nuorilla osujilla on vielä paljon näytettävää. On jännittävää nähdä, kuinka joukkue on kehittynyt kausien välissä.
FCottoNd
FCottoNd nähtiin Elisa Open Suomen 3. kaudella, ja vaikka matka silloin päättyi jo ennen neljännesvälieriä, on FCottoNd aina tarjonnut viihdyttävää CS:sää katsojille.
---
Pysy mukana tuoreimmista uutisista ja hauskimmista hetkistä seuraamalla Elisa Esportsia Twitterissä, Instagramissa ja TikTokissa! Elisa Openin pelit ja muut suomalaisittain kiinnostavat ottelut lähetetään suorana ElisaViihdeSportin Twitch-kanavalla.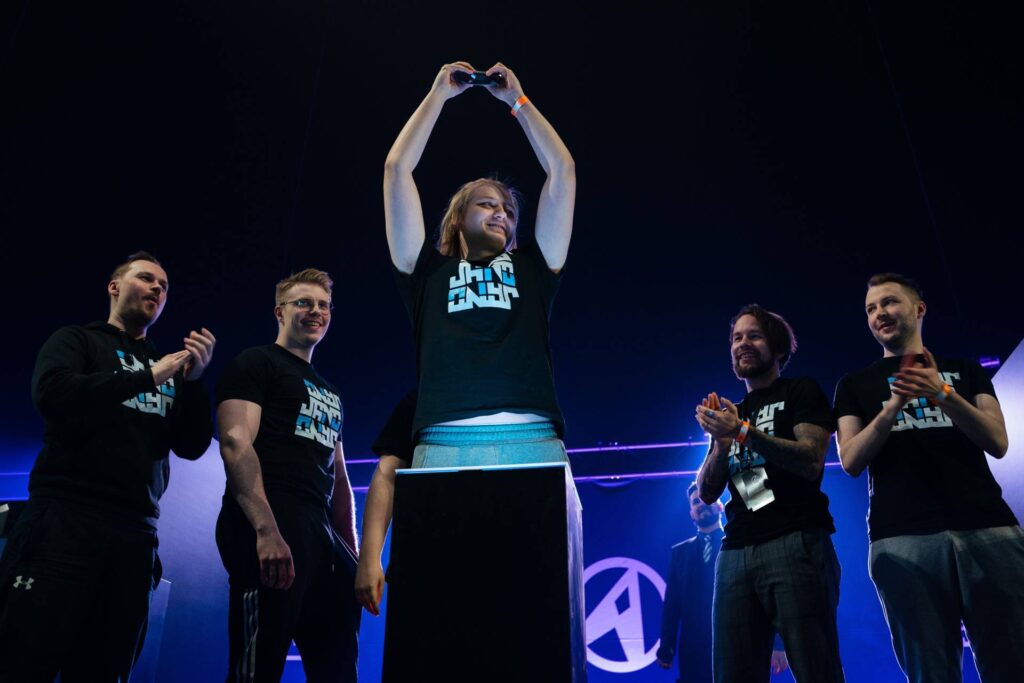 Viikonloppuna päättyi neljäs Elisa Open Suomi -kausi Lantrek 2023 -tapahtumassa, ja jännittävien pudotuspelien jälkeen JANO poistui lavalta voittajana. Finaalissa JANO kohtasi ENCE Academyn, ja vaadittiin kaikki kolme karttaa ennen voittajan ratkeamista. Molemmat finalistit varmistivat itselleen paikan myöhemmin tänä vuonna järjestettävää CS:GO:n eSM-turnaukseen sekä paikat Elisa Invitational Spring 2023 -kaudelle: ENCE Academy aloittaa matkansa Contenders-vaiheesta, ja JANO hyppää mukaan Main-Stagella.
Kauteen mahtui yli 20 mahtavaa ottelua, ja niistä suurin osa vaati kaikki 3 karttaa ratketakseen. Elisa Open Suomi 4. kaudella pelattiin yhteensä 62 karttaa, ja joukkueet suosivat eniten vanhoja tuttuja Miragea, Infernoa ja Nukea: Jokaista näistä kartoista pelattiin 11 kertaa, kun taas Vertigo nähtiin neloskaudella vain 5 kertaa.
Suurin ikäero kauden pelaajien kesken oli 17 vuotta, ja molemmat, kauden nuorin ja vanhin pelaaja selvittivät tiensä pudotuspeleihin saakka: Enhancedin riveissä pelaava nuori osuja Teemu "teme" Korva on 15-vuotias, kun taas TMVG:n riveistä löytyy 32-vuotias konkari Markus "shaker" Pyysalo.
Elisa Open Suomi 4. finaali: JANO vs. ENCE Academy
Lauantai-illan finaaliottelu piti katsojia jännityksessä loppuun saakka. Ensimmäinen kartta Overpass päättyi ENCE Akatemialle lukemin 6-16, kun taas Mirage ja Ancient päättyivät tiukkoihin 16-14 lukemiin JANOn hyväksi.
Finaaliottelussa parhaiten vastustajiin osui ENCE Academyn myltsi 76 frägillä, ja ENCE Academyn HENU varmisti joukkueelleen myös eniten avaustappoja finaalin aikana: 49 avaustaposta 17 oli HENUn käsialaa. Sen sijaan JANOn sLowi oli avuliaalla tuulella, ja tarjosi joukkueelleen eniten avustusta, ja legendaarinen Aleksi "allu" Jalli näytti AWP-taitojaan: Kolmen kartan aikana AWP:n tähtäimeen osui 37 vastustajaa.
Seuraa ElisaEsportsFI Twitterissä ja elisaesports Instagramissa ja kuulet ensimmäisenä, mitä tapahtuu ja milloin!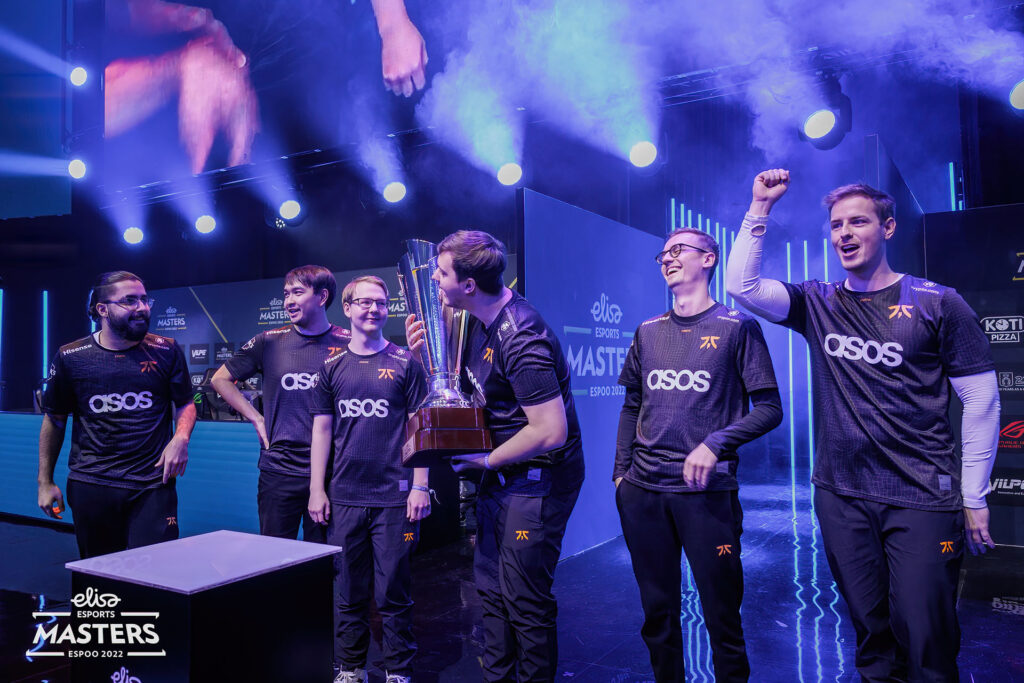 IEM Katowice 2023 saapuu piristämään CS-fanien kevättä 1.-12.2.2023. Elisa Esports lähettää suomalaisittain kiinnostavimmat pelit suorana ElisaViihdeSportin Twitch-kanavalla. Viime marraskuussa Elisa Masters Espoo '22 -tapahtuman voittaja fnatic ansaitsi itselleen turnauksen ykköspaikan lisäksi paikan IEM Katowice 2023 -turnauksen Play-In-vaiheeseen.
Puolan Katowicessa pelattava huipputurnaus käynnistyy Play-In-vaiheella 1.2.2023. Play-In-vaiheessa ovat mukana suomalaisittain kiinnostavat ENCE sekä Aleksi "Aleksib" Virolaisen luotsaama Ninjas in Pyjamas.
Seuraa ElisaEsportsFI Twitterissä, ja tiedät mitkä pelit ovat livenä ruudussa!
Play-In-vaiheen joukkueet:
fnatic
Permitta Esports
Cloud9
Ninjas in Pyjamas
Team Spirit
FURIA Esports
Complexity
MIBR
IHC Esports
GRAYHOUND
OG
ENCE
BIG
Sprout
paiN Gaming
Evil Geniuses
Play-In-vaiheen avausottelut pelataan BO1-formaatilla, muut ottelut BO3-formaatilla. 8 parasta joukkuetta etenevät turnauksen lohkovaiheeseen, jossa heitä vastassa on 8 paikkansa varmistanutta joukkuetta.
Lohkovaiheen joukkueet:
FaZe Clan
Team Vitality
Outsiders
Heroic
Team Liquid
Natus Vincere
G2 Esports
MOUZ
8 Play-In vaiheen parasta
Lohkovaiheen joukkueet jaetaan kahteen lohkoon. Lohkojen voittajat etenevät suoraan Semi-finaaliin, ja toiseksi sekä kolmanneksi sijoittuneet joukkueet taistelevat pudotuspelipaikoista välierissä.
Pudotuspelivaiheen ottelut pelataan BO3-formaatilla lukuun ottamatta finaaliottelua, jonka voittaja selviää BO5-ottelusarjan jälkeen!
Pysy kartalla lähetyksistä seuraamalla @ElisaEsportsFI Twitterissä ja Instagramissa @elisaesports!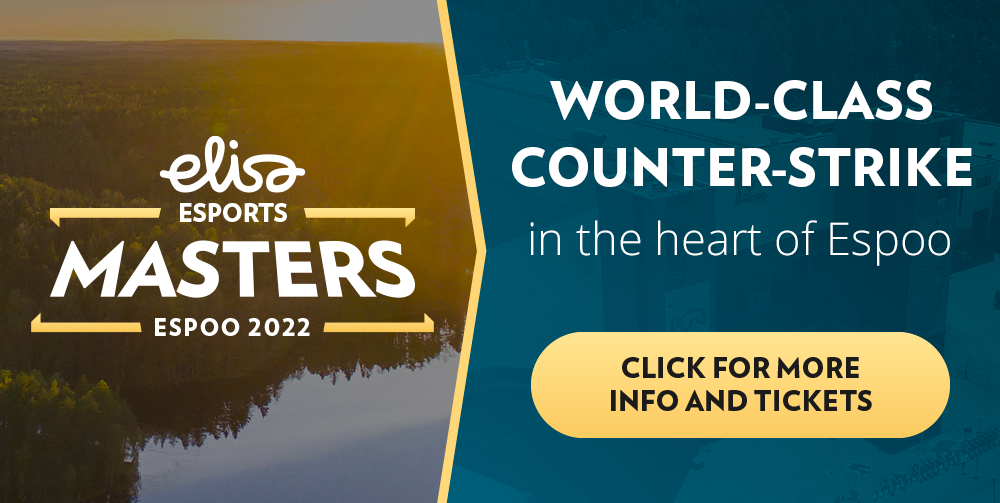 Elisa Masters Espoo '22 is right around the corner, and soon the Espoo Metro Arena looks like nothing before – it will be full of esports enthusiasts and CS:GO fans. We want to make sure that everyone enjoys every minute of the event and our partners help us by bringing lots of activities to the Arena.
ENCE
The big ENCE booth is near the main entrance and it is open to visitors during the whole event. The whole booth is branded to ENCE's and their partners' colors, and there is lot to do for the whole event!
There is multiple PC gaming stations where visitors can try their CS:GO skills with different challenges and there is a chance to win amazing prizes. Also the ENCE Shop is open throughout the event.
With the cherry on the top, on Saturday there will be a meet n' greet with ENCE Academy team and ENCE's main CS:GO roster where you can get a pic and a signature from your favorite players. The schedule for the meet & greet will be announced later, so stay tuned.
VILPE
We all know that people from VILPE are true esports fans, and you can meet them at Elisa Masters Espoo '22. At their booth you can find a photography wall where you can take your perfect event photos. CS Keisari is also found at VILPE's booth, and they bring you a chance to win CS:GO Skins by playing skinpong! CS Keisari also provides thundersticks for visitors so we all can make some noice!
City of Espoo
Get to know the city of Espoo and the Finnish esports history.
HAVU & Kotipizza
HAVU and Kotipizza have joined forces for Elisa Masters Espoo '22, and together they bring a lot of activities for the visitors! During the happy hour you can spin the Kotipizza's Pizzaroulette and win prizes, meet and challenge HAVU's influencers in 1 vs 1 games and meet HAVU CS:GO team in a meet & greet. The schedule for meet & greet will be announced later.
Incoach
At the Incoach's booth you get the best tips for gaming from professional coaches, and you can challenge the coach or your friend in 1 vs 1 games. There's also a CS:GO time challenge, and the winner gets a trophy home!
Keenetic
Enjoy the great atmosphere and take a minute to chill at Keenetic lounge!
KAMK.GG
KAMK's booth is a perfect place whether you want to challenge your friends or you just need a place to relax: KAMK is offering a full 1v1 challenge setup where you can play a friendly CS:GO matchup or try their luck at the official Surfshark 1v1 Tournament on Saturday. On Sunday there is a chance to challenge special guests in games!
Also the Aim Lab Challenge will be running continuously during venue opening hours, and those with the highest score at the end of each day have the opportunity to win product carepackages from KAMK's partners.
If you need to relax a bit, KAMK is offering a relaxed console gaming zone provided by Genelec, which includes a comfortable couch, immersive speaker setup and PS5.
Those who participate in any of KAMK.GG activities have a chance to win amazing prizes throughout the event weekend. Also visitors can learn more about one of Europe's-only full BBA degrees offered in Esports Business at Kajaani University of Applied Sciences!
Omnia
In Espoo Metro Arena you have a chance to learn more about Omnia and the possibilities to study there. You can challenge Omnia's students on 1v1 CS:GO matches.
Nokia
Nokia brings Nokia Student Network Hackathon finals to Elisa Masters Espoo '22. The 24-hour event will start at 17.00 on 18 November at Metro Arena. The competing teams are creating solutions for a new challenge. The themes of the challenges lay in our responsibility to develop technology to address the world's challenges.
Kitchen Joy
Prepare your tastebuds for incredible flavors, because Kitchen Joy is coming to Metro Arena with tasty Thai Cubes. Try different kinds of Thai Cubes and find your favorite!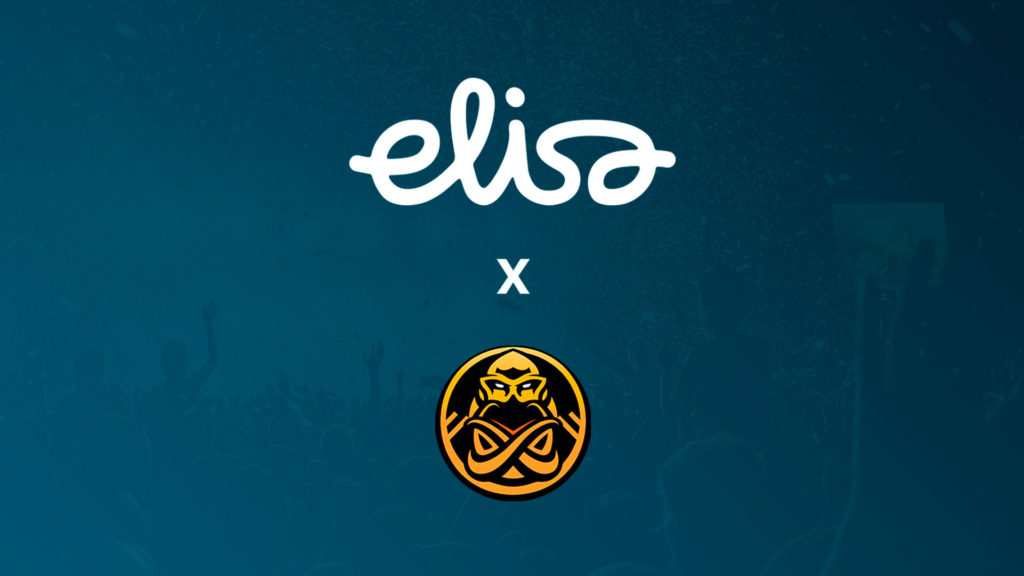 Uusi kumppanuus Suomen johtavan e-urheiluorganisaatio ENCEn kanssa hakee hyvää synergiaa Elisan ja ESL:n jo muodostamasta mediayhteistyöstä. Yhteistyö mahdollistaa entistä laadukkaammat ja sisältörikkaammat lähetykset Elisan Esportsin kanavilla, jonka myötä kotimaisissa lähetyksissä tullaan näkemään entistä enemmän asiantuntijoita ja pelaajahaastatteluita.
"ENCE on jo vuosia raivannut e-urheilulle tilaa niin kotimaassa kuin kansainvälisesti muodostaen erinomaisen alustan meille muille alan toimijoille e-urheilumarkkinassa. Nyt aloitettava yhteistyö Elisan ja ENCEn välillä jatkaa tätä arvokasta työtä jossa jatkossa yhdessä muodostamme niin tapahtumien kuin median ympärillä kestävää tulevaisuutta kotimaiselle e-urheilulle", riemuitsee Teemu Koski, Head of Elisa Esports.
Yhteistyö e-urheilun johtavien kansainvälisten kumppanien kanssa mahdollistaa kansainvälisesti ja kotimaisesti merkittävän kokonaisuuden, joka palvelee niin yritysmaailmaa kuin e-urheilun faneja. Tämän kautta Elisa sekä ENCE tulevat panostamaan erityisesti kotimaisiin elektronisen urheilun tapahtumiin, tuomalla erilaisia liiketoiminnallisia mahdollisuuksia yrityksien ja kuluttajien saataville.
Elisa Esportsin aiemmin julkaiseman Elisa Masters Espoo '22 -tapahtuman ensimmäinen kutsujoukkue on ENCE.
"Elisan pitkäjänteinen työ Suomen e-urheilukentän rakentamisessa on toiminut inspiraationa ENCElle, erityisesti CSGO Akatemiaohjelmamme näkökulmasta. Haluamme jatkaa edelläkävijänä e-urheilun ekosysteemin kehityksessä muiden johtavien toimijoiden kanssa, jolloin yhteistyökokonaisuus Elisan kanssa on ollut hyvin luonnollista suunnitella. Myös digitaalinen kehittyminen on ENCElle ensiarvoisen tärkeää – Elisan tarjoamat laajakaista- ja Elisa 5G-yhteydet mahdollistavat ENCEn menestyksen niin kotimaassa kuin kansainvälisilläkin areenoilla", kertoo Mika Kuusisto, ENCEn toimitusjohtaja.
Lisätietoa areenatapahtumasta ja liput Elisa Masters Espoo '22 tapahtumaan löydät osoitteesta elisamasters.fi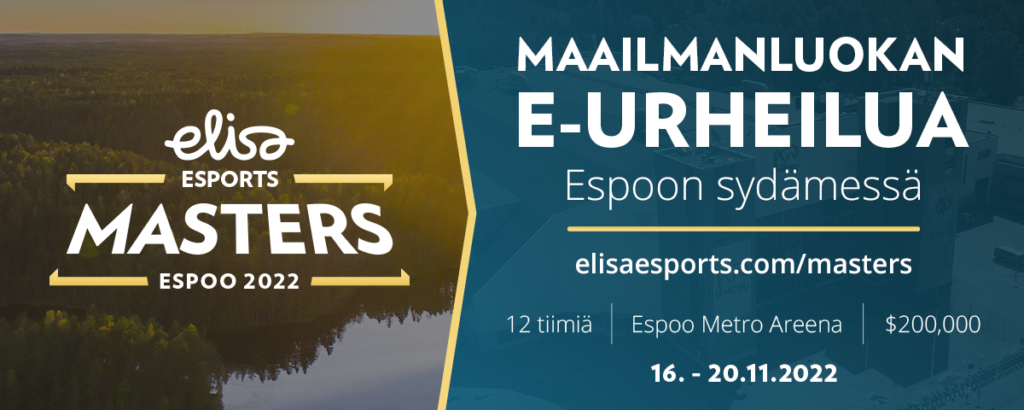 Elisa Invitational Winter 2021 -turnauksen loppuottelut pelataan tuhatpäiselle yleisölle LanTrek 2022 -tapahtumassa Tampereen Messu- ja Urheilukeskuksessa 3.–5. maaliskuuta 2022. Turnauksessa on jaossa huikeat 100 000 dollaria sekä viimeisiä paikkoja Elisa Esportsin järjestämään Masters-turnaukseen. Masters-turnauksesta joukkueilla on mahdollisuus jatkaa Champion Of Champions -turnaukseen, joka on huipentuma yhdelle maailman suurimmista kansainvälisistä miljoonakiertueista. Turnauksissa pelataan Counter-Strike: Global Offensive -peliä.
Kuluneen vuoden aikana Elisa Invitational -turnausten finaaleissa on nähty muun muassa suomalaisittain kiinnostavat ENCE ja HAVU, sekä kansainväliset huippujoukkueet Gambit, FURIA, fnatic ja Heroic. LanTrekeillä pelattavassa turnauksessa on siis odotettavissa ennennäkemätön show, sillä tähän mennessä Elisa Invitational -turnauksia on pelattu vain verkossa.
Myös Elisa Esportsin lähetyksissä nähty suomalainen ammattiselostaja Roope "Robu" Leppänen kommentoi turnausta seuraavasti:
" Suomessa ei ole ennen nähty näin montaa kärkijoukkuetta, eli on tietenkin mahtavaa saada näin laadukas turnaus kotikamaralle. LAN-turnaukset ovat aivan oma maailmansa, jossa peli muuttuu moninkertaisesti viihdyttävämmäksi ja jopa eeppiseksi! "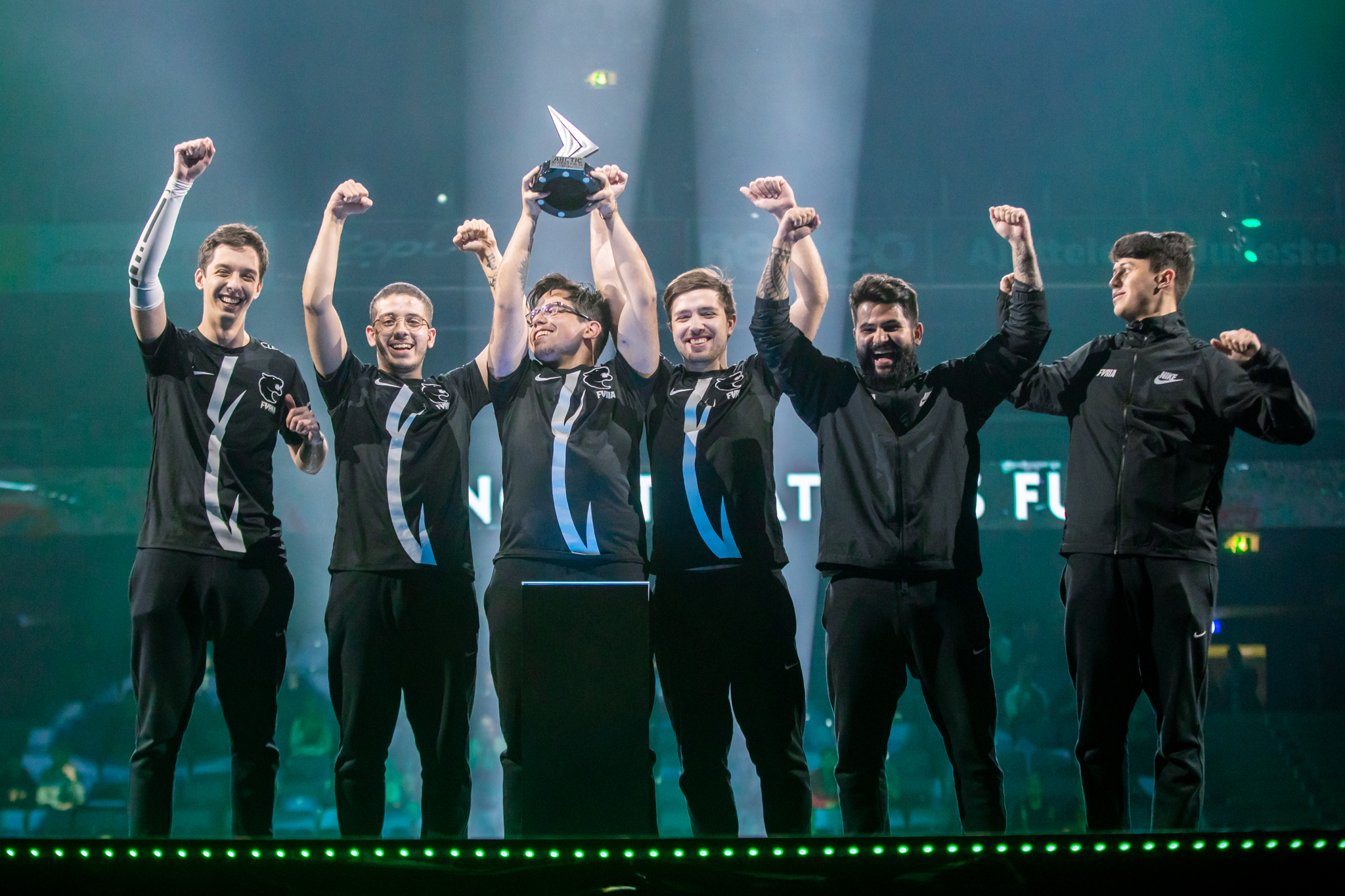 Polku kotikoneen äärestä pelaamisen ammattilaiseksi
Elisa Invitational -turnaukset mahdollistavat pelaajien etenemisen ruohonjuuritasolta aina maailmanluokan turnauksiin asti. Elisa Invitational Winter 2021 -turnaus alkaa tänään maanantaina 8. marraskuuta suomalaisille joukkueille järjestettävällä karsintaturnauksella.
"Koemme äärimmäisen suurta ylpeyttä kotimaisesta e-urheiluosaamisesta sekä jo pitkään kestäneestä yhteistyöstä LanTrekkien kanssa. On mahtavaa että pystymme yhdessä tuomaan Suomeen kansainvälisen huipputurnauksen ja mahdollistamaan meidän faneille pääsyn nauttimaan maailmanluokan CS:GO sisällöstä livenä", kommentoi Elisa Esportsin toiminnasta vastaava Teemu Koski
"Tämä on hieno osoitus pitkäjänteisestä ja rohkeasta yhteistyöstä mitä olemme yhdessä Elisa Esportsin kanssa viimeiset vuodet tehneet suomalaisten katsojien ja pelaajien eteen. Haastavan koronavuoden jälkeen pääsemme vihdoin tuomaan kansainvälisen huipputurnauksen live-yleisölle ja vieläpä ensimmäisenä LanTrek-pelitapahtumaan Tampereelle", toteaa LanTrek ry:n puheenjohtaja Juha-Matti Haapala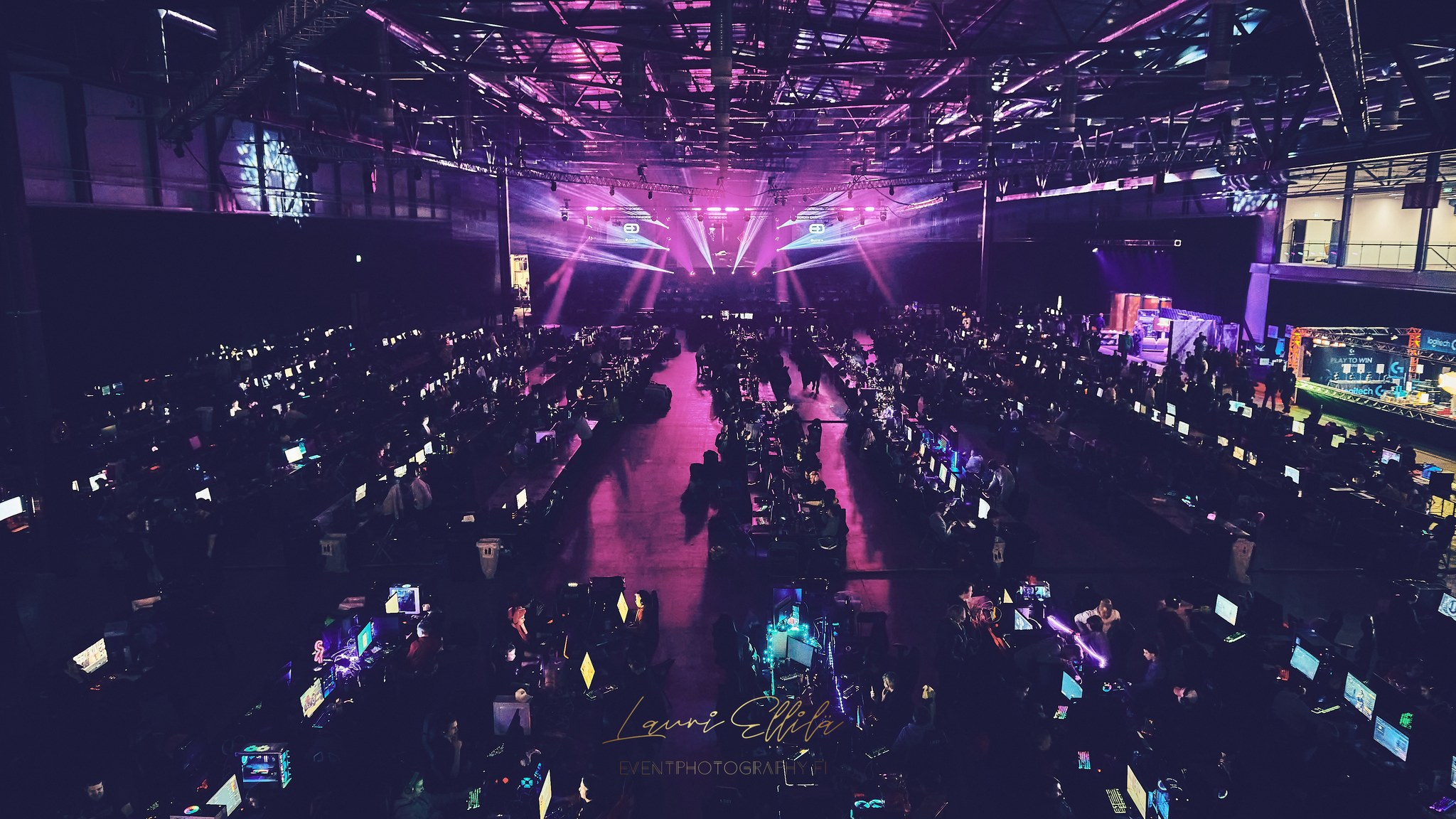 Tule siis seuraamaan maailman kärkijoukkueiden mestaruusmittelöä paikanpäälle Tampereen Messu- ja Urheilukeskukselle 3.–5. maaliskuuta 2022; liput tulevat myyntiin joulukuussa!
---
Elisa Invitational Winter 2021 -turnauksen loppuottelut pähkinänkuoressa
Loppuotteluiden ajankohta ja paikka

3.–5. maaliskuuta 2022, Tampereen Messu- ja Urheilukeskuksessa

Formaatti

8 joukkuetta jatkaa Main Swiss -vaiheesta karsintaotteluihin (BO3) , joista 4 joukkuetta lunastaa paikat Playoffs-vaiheeseen, ottelut pelataan verkossa

Playoff-vaihe, pelataan kokonaisuudessaan LanTrek-tapahtumassa

Neljä maailmanluokan kutsujoukkuetta ja neljä karsintaotteluvoittajaa

2 neljän joukkueen lohkoa (Double-Elimination Bracket). Kummassakin lohkossa:

2 Semifinaalia (BO3) ja Finaali (BO3)

Talven turnauskokonaisuuden palkintopottina on 100 000 dollaria sekä paikka Elisa Esportsin järjestämään Masters-turnaukseen, jonka päivämäärät ja muut lisätiedot ilmoitetaan myöhemmin.
Lisätietoa
Liput tapahtumaan tulevat myyntiin joulukuussa 2021 osoitteessa lantrek.org
Lisätietoa turnauksesta, sekä ajankohtaiset esports-uutiset löydät: elisaesports.fi sekä @ElisaEsports Twitteristä ja Instagramista!
---
Elisa Esports on Suomen suurin esports-toimija. Meidän kautta tavoitat parhaiten kotimaiset esports-fanit ja -seuraajat. Näytämme suomalaisittain kiinnostavimmat esports-ottelut ja järjestämme kansainvälisiä turnauksia, joihin suomalaiset suosikit osallistuvat.
Elisa Esports on järjestänyt muun muassa Arctic Invitational (Hartwall Arena 2019) ja Elisa Invitational –turnaukset. Elisa Esportsin toiminta jatkuu vuonna 2022, kun $2.7M Elisa Champion of Champions -kiertue huipentuu.
LanTrek on vuonna 2001 perustetun LanTrek ry:n vuosittain järjestämä pelitapahtuma, jossa on yli 1500 tietokonepaikkaa, peliturnauksia sekä paljon monipuolista ohjelmaa pelaamisen ympärillä. Tapahtumaviikonlopun aikana Tampereen Messu- ja urheilukeskuksessa käy 10 000 pelaamisesta kiinnostunutta päiväkävijää, harrastajaa ja ammattilaista.
Liput tulevat myyntiin joulukuussa. Tapahtuman lisätiedot, aikataulut ja liput löydät osoitteesta lantrek.org.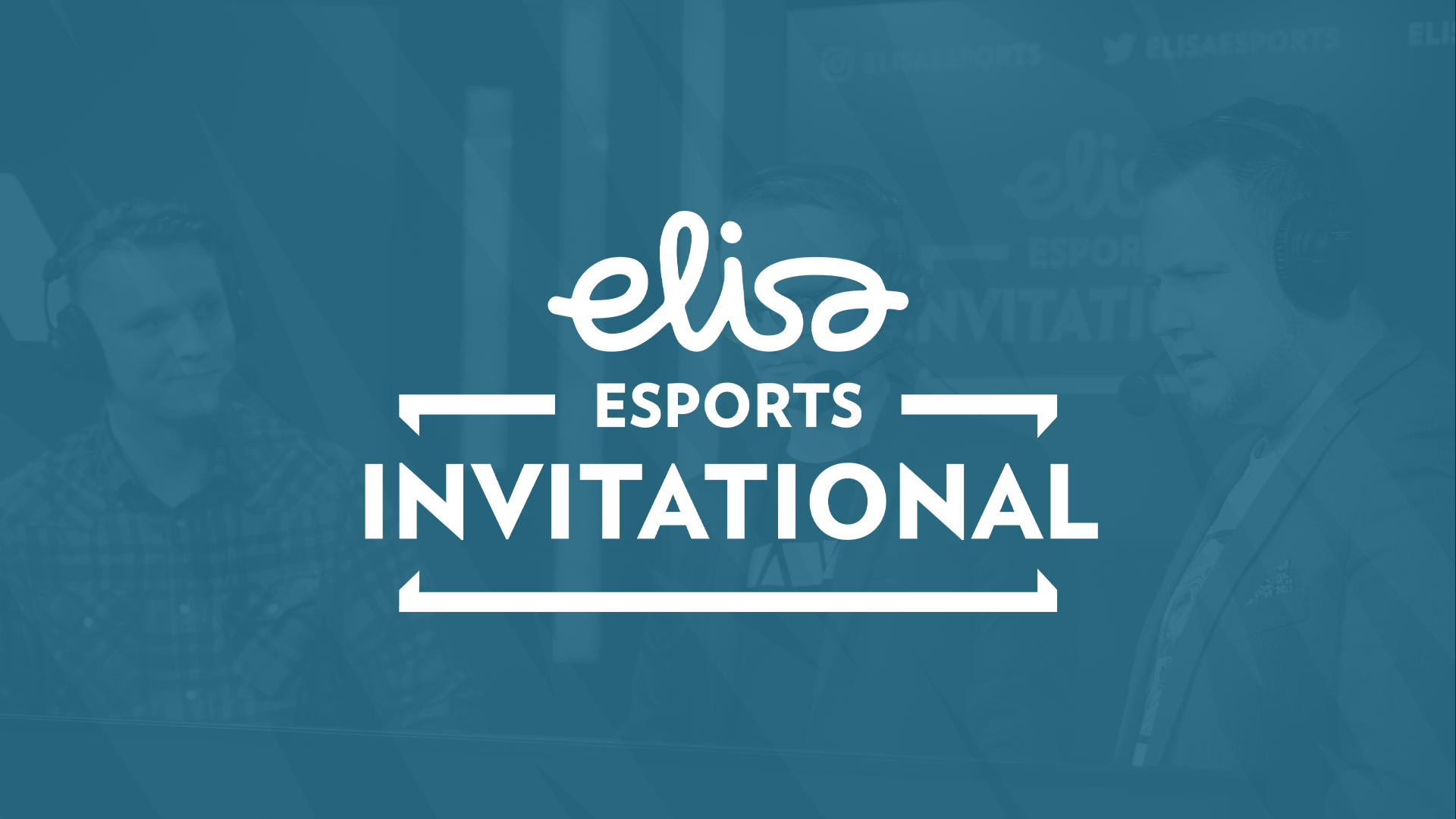 Elisa Invitational Fall 2021 – Playoffs Stage is set to begin on the 11th of October! Here's how you can catch up with all the content for the Elisa Invitational.
Where: Online
When: 11.10. – 15.10.2021
Teams: 12
Prize Pool: $100 000
---
FORMAT
Playoffs Stage
Single-Elimination Bracket with 4 rounds of play: Opening Matches, Quarter Finals, Semi Finals, and Grand Final
12 teams in total; 8 teams in the Opening Matches from Main Swiss, 4 teams invited straight to the Quarter Finals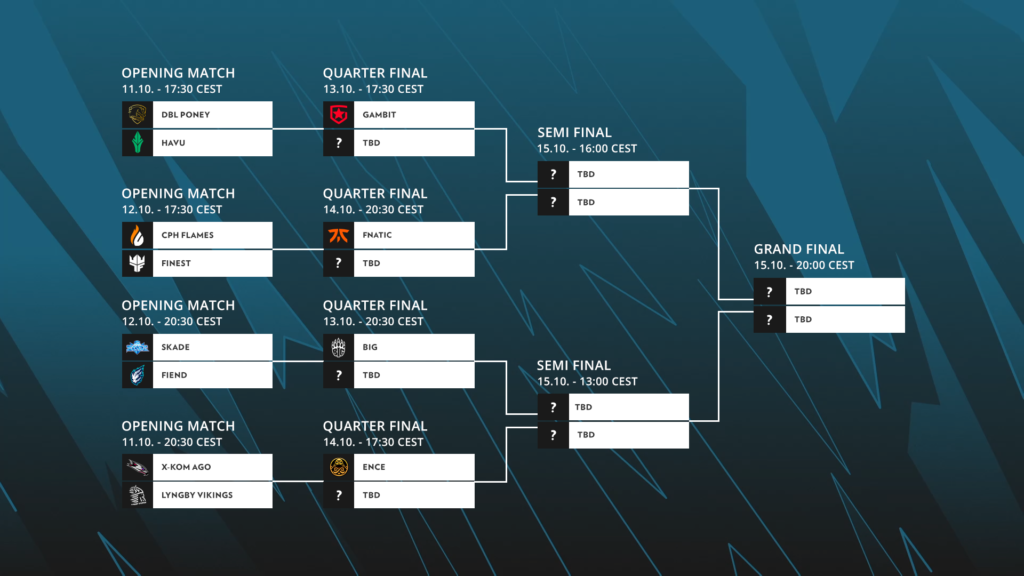 ---
TEAMS
GAMBIT – Invited to Quarter-Finals
BIG – Invited to Quarter-Finals
ENCE – Invited to Quarter-Finals
FNATIC – Invited to Quarter-Finals
Copenhagen Flames – Qualified from Main Swiss
SKADE – Qualified from Main Swiss
DBL PONEY – Qualified from Main Swiss
HAVU – Qualified from Main Swiss
X-KOM AGO – Qualified from Main Swiss
FIEND – Qualified from Main Swiss
Lyngby Vikings– Qualified from Main Swiss
FINEST – Qualified from Main Swiss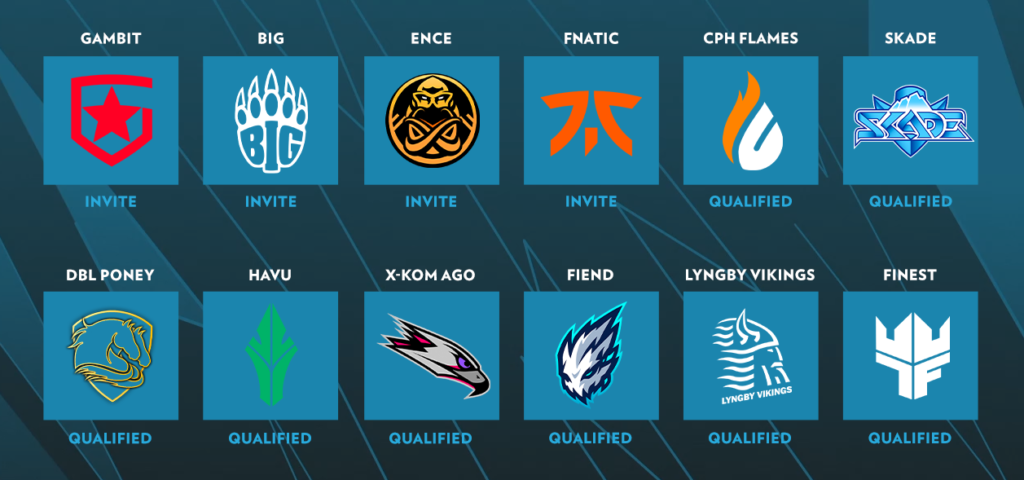 ---
SCHEDULE
11.10. MONDAY – Opening Matches
Opening Match 17:30 CEST – DBL Poney vs. HAVU BO3
Opening Match 20:30 CEST – x-kom AGO vs. Lyngby Vikings BO3
12.10. TUESDAY – Opening Matches
Opening Match 17:30 CEST – CPH Flames vs. Finest BO3
Opening Match 20:30 CEST – SKADE vs. Fiend BO3
13.10. WEDNESDAY – Quarter-Finals
Quarter-Final 17:30 CEST – Gambit vs. DBL Poney/HAVU Winner BO3
Quarter-Final 20:30 CEST – BIG vs. SKADE/Fiend Winner BO3
14.10. THURSDAY – Quarter-Finals
Quarter-Final 17:30 CEST – ENCE vs. x-kom AGO/Lyngby Vikings Winner BO3
Quarter-Final 20:30 CEST – FNATIC vs. CPH Flames/Finest Winner BO3
15.10. FRIDAY – Semi-Finals, and Grand Final
Semi Final #1 13:00 CEST – TBD BO3
Semi Final #2 16:00 CEST- TBD BO3
Grand Final ~20:00 CEST – TBD BO3 (1-hour break between 2nd semi-final and final)

Follow our Twitter for results and a real-time schedule.
See you on Twitch!

It's time for PSL Elisa Viihde PUBG Fall Challenge grand finals! We have 18 maps of top tier international PUBG coming to your way during friday, saturday and sunday. At sunday we have new PSL champion, who takes home 7500€ grand prize. There is overall of 15 000€ in the prize pool, so every team wants to do their best in this one. We have 5 teams in the grand finals, which have battled through from the first round and they have 11 invitational teams to challenge them. More info about the tournament overall you find here.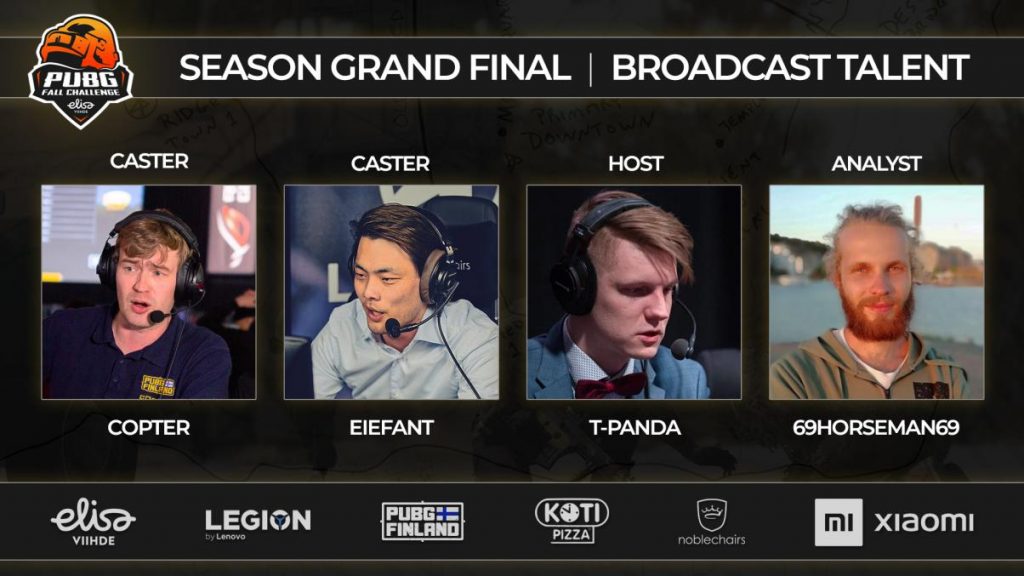 Finals
Friday 18.9, Saturday 19.9 and Sunday 20.9
Grand Finals – Broadcasts start at 17.30 CEST:
Results: Points – Player statistics

Existential
Team HEARD
Creeps
PolishPower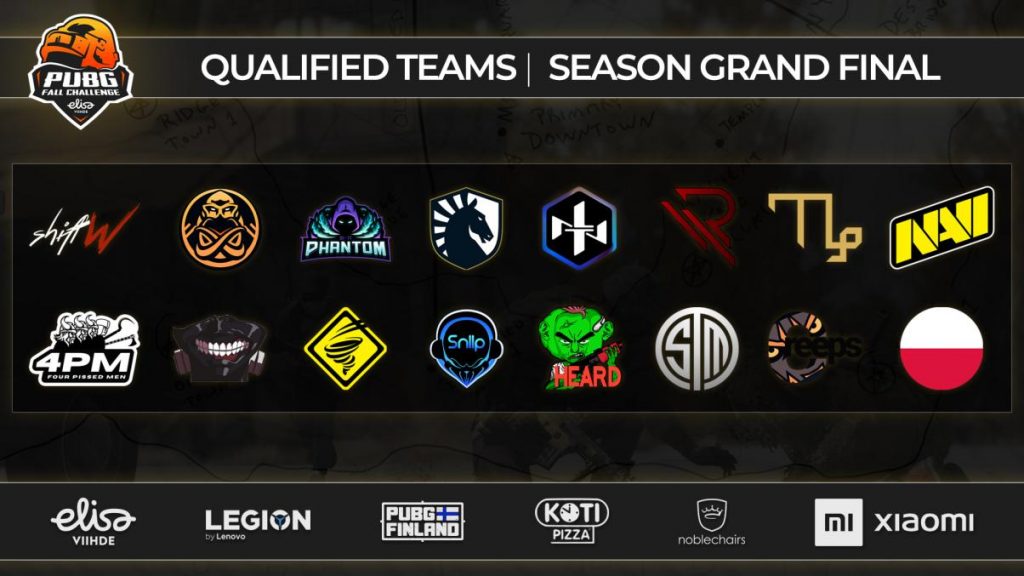 Teams to watch:
Four Pissed Men (FaZe Clan)
FaZe Clan won the recent PCS 2 – tournament, which included many teams from PSL finals. 4PM entered the PSL finals from Losers bracket after they failed to get a place in Winners bracket by 1 point in round 4. Now that PCS 2 is over, this team can fully focus on PSL and they are force to be reckoned with! I think every pair of eyes are on 4PM and it would be pretty big surprise if they are not one of the top teams after 18 maps.
Team Liquid
Team Liquid was pretty much the only team who could challenge FaZe Clan in PCS 2 and they have made their way through PSL rounds pretty easily. TL didn't have the easiest of summers, but lately their game has been on point! Liquid is probably the biggest favorite to win PSL season 7. Last season they failed to perform in the finals and were sixth at the end. Now they want their revenge and add PSL-championship on their trophy case.
shiftW
shiftW has battled through 5 rounds of PSL already and now it's time to end this tournament strong. They won Winners bracket at monday and they are one of the hottest teams for the finals. Team was formerly know as WeAreWe and they were fairly unknown team to big audience before PCS 2 where they placed fourth, dropping out from the podium by one point. Now they are well known and respected, but they are still trying to find their first tournament win. Maybe PSL is place where they get their first trophy!
ENCE
ENCE is playing in front of Finnish audience and with newly found synergy they are performing well. ENCE was second in the Winners bracket and they placed fifth in the PCS 2. ENCE is only full Finnish roster in the finals, so they have the support of the crowd behind them. ENCE is always dangerous opponent and they are supposed to be one of the top teams in the finals.
To be sure you get all the latest updates, results and news you should follow our twitter!