Elevating the Gaming Experience: Elisa Masters Espoo 2023 Collaborates with ASUS ROG

As the esports community eagerly awaits Elisa Masters Espoo 2023, there's a promise to not just deliver thrilling matches but also an unparalleled gaming experience. This commitment is further strengthened with the renewed partnership between Elisa Esports and ASUS ROG, a leading name in top-tier gaming innovation.
With numerous top-ranking teams set to participate, Elisa Masters Espoo 2023 aims to offer them an environment reflecting their high caliber. This is where ASUS ROG comes in, promising to enhance the gaming experience with its advanced equipment. "We are thrilled to be partnering up with Elisa Esports once again to provide Elisa Masters Espoo 2023 with state of the art Gaming PC's and 380Hz ROG Strix XG259QN monitors ensuring a top tier gaming experience for the players in Espoo", said Lovisa Boström, Gaming Marketing Manager at ASUS ROG Nordic.
But the excitement doesn't end here. ASUS ROG is preparing to showcase a treat for tech enthusiasts and fans attending the event. "We had an absolute blast at Elisa Masters Espoo 2022 and we are very excited to return to Espoo for Elisa Masters Espoo 2023. This year we will bring the latest and most exciting products from ASUS ROG to Espoo Metro Arena with a dedicated space for visitors. The highly anticipated ROG Swift Pro PG248QP monitor with 540Hz and the handheld success ROG Ally among many other products will be on display to experience hands-on. We hope to see you there!" Lovisa Boström added.
Speaking about the significant collaboration, Olli-Pekka Villa, Head of Elisa Esports, stated, "For a major event like Elisa Masters, it's essential to have a partner that shares our vision of excellence. ASUS ROG, with its impressive reputation and unmatched expertise, aligns perfectly with our goal of offering an unparalleled experience, both in terms of gameplay and tech interaction."
This partnership symbolizes the perfect blend of world-class esports talent and top-notch gaming technology, ensuring Elisa Masters Espoo 2023 is an event to remember!


For seamless travel solutions, Taksi Helsinki has joined us as the official transport partner for the Elisa Masters Espoo 2023 event. With a reputation for reliable and quality services, Taksi Helsinki is conveniently located throughout the Helsinki metropolitan area, guaranteeing that all event attendees – players, staff, and fans alike – have the ability to reach the Espoo Metro Arena and other event destinations swiftly and easily.
In addition to offering unmatched reliability and convenience, Taksi Helsinki is also committed to sustainability. Its ecofleet, or low-emission fleet, has seen significant growth in recent years. Currently, approximately a quarter of Taksi Helsinki's fleet is powered by electricity. The ecofleet's expansion has been somewhat limited by delays in the availability of electric cars, but the company continues to make strides in its pursuit of a more sustainable future.
Whether participants need to commute to the event venue, return to Hotel Matts for a night of sleep and relaxation, or simply wish to explore the vibrant city of Espoo, Taksi Helsinki provides a dependable and secure transport service. Their commitment to customer satisfaction, environmental responsibility, and their slogan "Worthy of your trust" makes Taksi Helsinki an ideal choice for transport within the city.
Expressing his enthusiasm about the partnership, Olli-Pekka Villa, Head of Elisa Esports, said: "For an event as grand as Elisa Masters, a dependable transport partner like Taksi Helsinki is essential. Their commitment to punctuality and quality service is sure to enhance the smooth functioning of the event, ensuring our players and staff can navigate the city effortlessly."
Suvi Viitala, Head of Sales and Marketing, Taksi Helsinki, also shared her thoughts on the collaboration: " We have just published our new brand concept – Worthy of your trust, and we were excited when we were asked to be a partner in the event, which collected more than five million live broadcast views last year. We believe that the event will reach a lot of important target groups for us this year, and the Elisa Masters Espoo 2023 event is a great way for us to introduce our new brand concept to new target groups as well."
As we move towards the end of the year, Taksi Helsinki will offer exclusive, environmentally friendly transportation services throughout the Elisa Masters Espoo 2023 event. Their commitment to punctuality, safety, reliability, and sustainability goes hand-in-hand with the core values of the event, promising an unforgettable event for all attendees!


The last Finnish Champion of CS:GO will be crowned at the Assembly Summer 2023 Main Stage this weekend! Four amazing Finnish teams will fight for the victory, the title of Finnish Champion and a spot to the Elisa Masters Espoo 2023 event played in November and December.
What?
Elisa Esports eSM 2023 – The Finnish Championship tournament in CS:GO
Where?
When?
3rd to 5th of August 2023
How can I follow?
Prizepool
Teams
JANO (Elisa Open Suomi Season 4 winner)
ENCE Academy (Elisa Open Suomi Season 4 finalist)
HAVU (Elisa Open Suomi Season 5 finalist)
Enhanced (Elisa Esports eSM 2023 Last Chance Qualifier)
Schedule (in EEST)
| | |
| --- | --- |
| Thu 3.8.2023 at 13.00 | HAVU vs. Enhanced |
| Thu 3.8.2023 at 17.00 | ENCE Academy vs. JANO |
| Thu 3.8.2023 at 21.00 | TBD vs. TBD (Upper Bracket 1) |
| | |
| --- | --- |
| Fri 4.8.2023 at 11.00 | TBD vs. TBD (Losers Bracket 1) |
| Fri 4.8.2023 at 14.30 | TBD vs. TBD (Losers Bracket 2) |
| | |
| --- | --- |
| Sat 5.8.2023 at 14.30 | TBD vs. TBD (Grand Final) |

This year, attendees at Elisa Masters Espoo 2023 can look forward to a unique brewing experience, as Tornion Panimo, a renowned Finnish brewery, steps into the spotlight as the official brewery partner of Elisa Esports. Known for its consistent focus on quality, attention to detail, and handcrafted brews, Tornion Panimo is set to enhance the event experience with its range of exceptional beers.
One of the driving forces of Finnish craft brewery culture, Tornion Panimo infuses its rich history and brewing traditions into every can. The brewery's commitment to excellence and innovative spirit align seamlessly with the ethos of Elisa Masters Espoo, an event that celebrates the vibrancy and evolution of esports.
The partnership extends beyond just the event itself, as Tornion Panimo's exquisite products will also be showcased across all Elisa Esports' channels starting July.
Commenting on the partnership, Olli-Pekka Villa, Head of Elisa Esports, said, "We are thrilled to bring Tornion Panimo on board as our official brewery partner. Their dedication to quality brewing and their unique approach to creating distinctive taste experiences aligns perfectly with our vision for this event. We're excited for our attendees to enjoy the excellent range of beers Tornion Panimo offers."
Janne Siltala, Community Manager of Tornion Panimo, shared his enthusiasm for the collaboration, stating, "We have been following the strong growth of the esports industry for some time now with great interest. Community and passion are important to us, and in discussions with Elisa Esports we noticed that the same values unite us. It's an honor to be Elisa Esports' first brewery partner and to bring authentic artisan flavors to a completely new audience."
We look forward to raising a toast with the attendees of Elisa Masters Espoo 2023 and sharing the joy of gaming and craftsmanship in every sip. As part of this exciting partnership, Tornion Panimo will be offering a diverse range of its finest brews, each reflecting the brewery's commitment to excellence and Finnish brewing traditions. Join us at the Elisa Masters Espoo 2023, where esports excellence meets the art of brewing for an unforgettable experience!



Hotel Matts is the official accomodation partner of the Elisa Masters Espoo 2023 tournament. Hotel Matts is located in Matinkylä, just three minutes metro ride from Espoo Metro Arena. Ensure your good night sleep in soft beds and wake up for tasty breakfast! Hotel Matts has both hotel rooms and apartments for a shorter or longer stay. Restaurant Freja offers delicacies made from fresh ingredients in a chic atmosphere. If you arrive by car, the hotel offers parking facilities at a reasonable cost.
"For an event like Elisa Masters, it is important to have a trusted accommodation partner. Partnering with Hotel Matts, which is one of the most modern and liked hotels around, ensures that all the players and our staff will have the rest needed in between tournament days", Olli-Pekka Villa, Head of Elisa Esports.
"We are thrilled and proud to be the official accommodation partner of the Elisa Masters tournament for the second time. The partnership has brought us international visibility and new clientele to Matinkylä and Hotel Matts. In addition it has also given us the opportunity to explore the world of esports", Anna Halme, Head of Sales, Kassiopeia Hotels & Restaurants.
Hotel Matts offers esports fans –15 % accommodation discount from the daily price for bookings 27.11.-4.12.2023. Book from the Hotel Matts website with the code ALLESPORTS23.

Elisa has signed a co-operation agreement with the City of Espoo. The agreement brings the Elisa Masters Espoo 2023 event to the Espoo Metro Arena on November 29 – December 3, 2023. The event gathers together esports enthusiasts, professionals and spectators from around the world. The first Elisa Masters Espoo event organized last year was a success, and it gathered more than 8,000 visitors to the venue.
Elisa Masters Espoo will be held for the second time at the Espoo Metro Arena on November 29 – December 3, 2023. The event will feature a total of eight top teams, who will claim their place either by invitation or based on their previous success. In the upcoming event, both GamerLegion, who triumphed in the Elisa Invitational Winter 2023 season and secured the second spot in the Major tournament, as well as the yet-to-be-decided winner of the ongoing Elisa Invitational Spring 2023 season, will be among the competing teams. In addition, the event will also feature the Finnish Champion, who will be determined in the Elisa Esports eSM 2023 tournament held in August.
"Elisa Masters succeeded in establishing its position as one of the flagship events in the Counter-Strike competitive calendar. We are excited to be able to expand our partnership with the City of Espoo and continue to strengthen the esports culture. The event offers an exceptional opportunity for Finnish talent to shine on a global level", says Mika Lepistö, Director of New Business Development and Partnerships at Elisa.
Elisa Masters Espoo 2023 starts on November 29th with the Studio Phase. The Group Decider matches and Playoffs can be followed live at the Espoo Metro Arena on December 1 – 3, 2023. Elisa brings its game and technology innovations as well as a fast 5G network connection to the event, which guarantees an engaging and unforgettable experience for visitors on site and viewers following from home.
The City of Espoo, known for its vibrant and tech-savvy community, is looking forward to organizing a groundbreaking esports event in co-operation with Elisa. The co-operation emphasizes the city's commitment to promoting technology, innovation, and a dynamic environment for esports enthusiasts and consumers.
"Esports is an important part of digital culture and the spearhead of game culture. For Espoo, it is important not only to have a successful and communal experience in the event itself, but also to reach a wide player community and create links for players to esports clubs, education and working life. This is part of our work to develop the gaming industry cluster in Espoo", commented Mervi Heinaro, Deputy Mayor for Economic Development, Sports and Culture, at the City of Espoo.
The previous Elisa Masters Espoo event was held in November 2022, and it received overflowing praise as a stage for high-level esports competition. The event brought together esports enthusiasts, professionals, and spectators from around the world. The success of the Elisa Masters Espoo 2022 event laid the foundation for the starting partnership with the City of Espoo.
Elisa Masters Espoo 2023 in a nutshell:
Elisa Masters brings the world's top players to Espoo
The group matches will be played in the Studio Phase on November 29 – 30, 2023

Two four-team Double Elimination brackets (opening matches Best-of-1, rest Best-of-3)

The two best teams in the groups advance directly to the Playoffs

Group Decider matches and Playoffs will be played in front of the crowd at Espoo Metro Arena on December 1 – 3, 2023

One four-team Single Elimination bracket (Best-of-3)

Teams:

GamerLegion (Elisa Invitational Winter 2023)

Winner of Elisa Invitational Spring 2023

Winner of Elisa Esports eSM 2023

$200,000 prize pool
The event is not recommended for family's youngest
Tickets and more info about the tournament can be found at elisamasters.com

Tickets: elisamasters.com
The tournament can be followed in English from Elisa Esports' Twitch channel twitch.tv/elisaesports
For the latest news regarding everything Elisa Esports, follow @elisaesports on Twitter and Instagram!
Elisa on solminut yhteistyösopimuksen Espoon kaupungin kanssa, ja sen myötä Espoon Metro Areenalla järjestetään Elisa Masters Espoo 2023 -tapahtuma marras-joulukuussa 2023. Tapahtuma kokoaa yhteen e-urheilun harrastajat, ammattilaiset ja katsojat ympäri maailmaa. Viime vuonna järjestetty ensimmäinen Elisa Masters Espoo -tapahtuma oli menestys, ja se keräsi yli 8000 kävijää paikan päälle.
Counter-Striken huipputurnaus Elisa Masters Espoo järjestetään toisen kerran Espoon Metro Areenalla marras-joulukuussa 2023. Tapahtumassa nähdään yhteensä kahdeksan huippujoukkuetta, jotka lunastavat paikkansa joko kutsuilla tai kilpailumenestyksen perusteella. Talvella pelatun Elisa Invitational Winter 2023 -kauden voittaja ja Major-huipputurnauksessa toiselle sijalle yltänyt GamerLegion, sekä parhaillaan pelattavan Spring 2023 -kauden voittaja tullaan näkemään Elisa Masters Espoo 2023 -tapahtumassa. Lisäksi paikkansa tapahtumaan lunastaa elokuussa Assemblyillä Elisa Esports eSM 2023 -turnauksessa ratkaistava suomenmestari.
"Elisa Masters onnistui kertaheitolla vakiinnuttamaan asemansa yhtenä e-urheilukalenterin lippulaivatapahtumista. Olemme innoissamme voidessamme laajentaa kumppanuuttamme Espoon kaupungin kanssa ja jatkaa e-urheilukulttuurin vahvistamista. Tapahtuma tarjoaa poikkeuksellisen mahdollisuuden suomalaisille lahjakkuuksille loistaa maailmanlaajuisella tasolla", sanoo Mika Lepistö, Elisan uusien liiketoimintojen kehitys- ja kumppanuusjohtaja.
Elisa Masters Espoo 2023 käynnistyy marraskuun 29. päivänä studiovaiheella, ja otteluita voi seurata paikan päällä Espoon Metro Areenalla 1.– 3. joulukuuta 2023. Elisa tuo tapahtumaan peli- ja teknologiainnovaatiotaan sekä nopean 5G-verkkoyhteyden, jotka takaavat mukaansatempaavan ja unohtumattoman kokemuksen sekä paikan päällä oleville vierailijoille että verkon välityksellä seuraaville katsojille.
Elinvoimaisesta ja tekniikkataitoisesta yhteisöstään tunnettu Espoon kaupunki odottaa innolla uraauurtavan e-urheilutapahtuman järjestämistä yhteistyössä Elisan kanssa. Yhteistyö korostaa kaupungin sitoutumista teknologian, innovaatioiden ja dynaamisen ympäristön edistämiseen e-urheilun harrastajille ja suurkuluttajille.
"E-urheilu on tärkeä osa digitaalista kulttuuria ja pelikulttuurin keihäänkärki. Espoon kannalta on tärkeää paitsi onnistunut ja yhteisöllinen kokemus itse turnauksessa, myös se, että tavoitamme yhteistyön avulla laajan pelaajayhteisön ja luomme heille linkkejä toisiinsa, e-urheiluseuroihin, koulutukseen ja työelämään. Tämä on osa työtämme pelialan klusterin kehittämiseksi Espoossa", kommentoi Espoon elinvoimajohtaja Mervi Heinaro.
Edellinen Elisa Masters Espoo -tapahtuma järjestettiin marraskuussa 2022, ja se sai ylitsevuotavaa kiitosta korkean tason e-urheilun näyttämönä. Tapahtuma kokosi yhteen e-urheilun harrastajia, ammattilaisia ja katsojia ympäri maailmaa. Elisa Masters Espoo 2022 -tapahtuman menestys loi pohjan alkavalle kumppanuudelle Espoon kaupungin kanssa.
Tietoa Elisa Masters Espoo 2023 -tapahtumasta:
Elisa Masters tuo maailman huippupelaajat Espooseen
Lohko-ottelut pelataan studiovaiheessa 29. – 30. marraskuuta 2023

Kaksi neljän joukkueen Double Elimination -lohkoa (avausottelut Best-of-1, loput Best-of-3)

Lohkojen kaksi parasta etenevät suoraan pudotuspeleihin

Pudotuspelit ja lohkojen ratkaisuottelut pelataan yleisön edessä Espoon Metro Areenalla 1. – 3. joulukuuta 2023

Yksi neljän joukkueen Single Elimination -lohko (Best-of-3)

Joukkueet:

GamerLegion (Elisa Invitational Winter 2023)

Elisa Invitational Spring 2023 -voittaja

Elisa Esports eSM 2023 -voittaja

200 000 dollarin palkintopotti
Tapahtumaa ei suositella perheen pienimmille
Liput Elisa Masters Espoo 2023 -tapahtumaan ovat myynnissä nyt osoitteessa elisamasters.fi

Lipunmyynti: elisamasters.fi
Turnauksen lähetykset Twitchissä: suomi | englanti
Lisätietoa turnauksesta Elisa Esportsin kanavissa: www | Twitter | Instagram
Elisa Masters Espoo '22 Studio Phase is continuing today with Group B matches. You can follow the Studio Phase on Elisa Esports' Twitch Channels.
All 12 teams will attend in Studio Phase, where 6 teams secure their place in the Arena. The Arena Phase will be played in front of a live audience at Espoo Metro Arena and will be also streamed on Twitch.

If you are looking for a Viewers Guide or Schedules, you'll find them here: Elisa Masters Espoo '22 Viewer's Guide.
If you want to know what to do in the Arena besides enjoying the matches, you'll find our partner booth information here: Elisa Masters Espoo '22 is full of activities – Here's a list of Partner Booths!
---
Arriving to the Espoo Metro Arena
Espoo Metro Areena is located to Urheilupuistontie 3, 02200 Espoo. You can arrive by public transportation or by your own car.
Public transportation
Easiest way to find the best option for public transportation is to use HSL Route planner.
The closest metro station to Espoo Metro Arena is Urheilupuisto station, and it's about 500 meters away from the arena.
The local buses which go by the Metro Arena:
114 Tapiola (M)-Leppävaara
115 Tapiola (M)-Mankkaa
119 Tapiola-Niittykumpu
Own car
If you plan to arrive with your own car, please notice that there is a limited amount of parking space available. The parking during the event is free.
---
Entering to the Espoo Metro Arena
Remember to get your tickets before arriving at Espoo Metro Arena! Unfortunately, we don't sell tickets at the doors, but you can buy the ticket with your phone. Get your ticket here: elisamasters.com.
Lower Seat, Drinking Seat, and Floor Seat tickets– use the main entrance.
Legendary and Premium VIP tickets – use the club doors.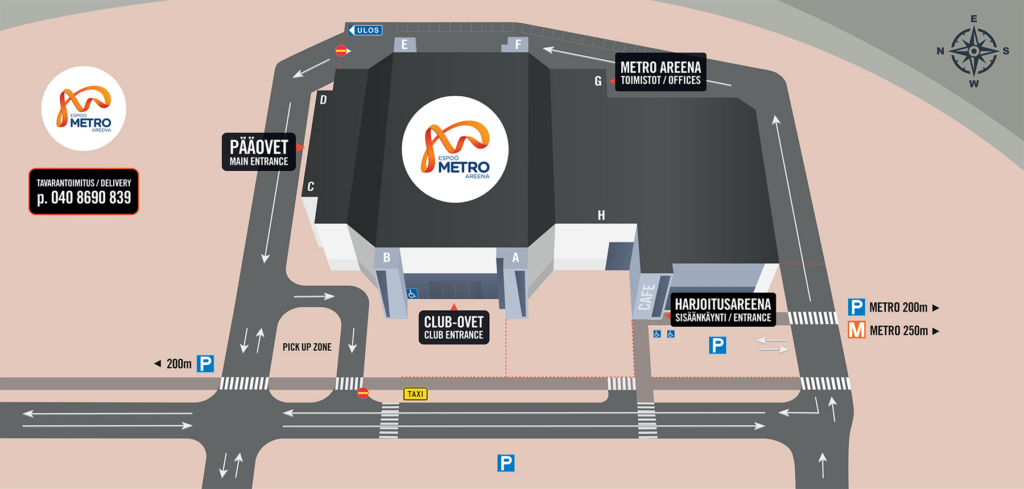 Take your ticket ready when entering to the Metro Arena, and prepare for security check.
All visitors must be prepared to show the contents of their bag at the gate/entrance. Prohibited objects, substances, and foods/drinks are removed at the doors during the entrance inspection. By leaving prohibited items at home, you speed up the operation of the security check significantly.
There is a cloakroom available for the visitors (3€/customer).
During the event, the Restaurants and Bars of Metro Arena will be serving you.
See you in the Espoo Metro Arena!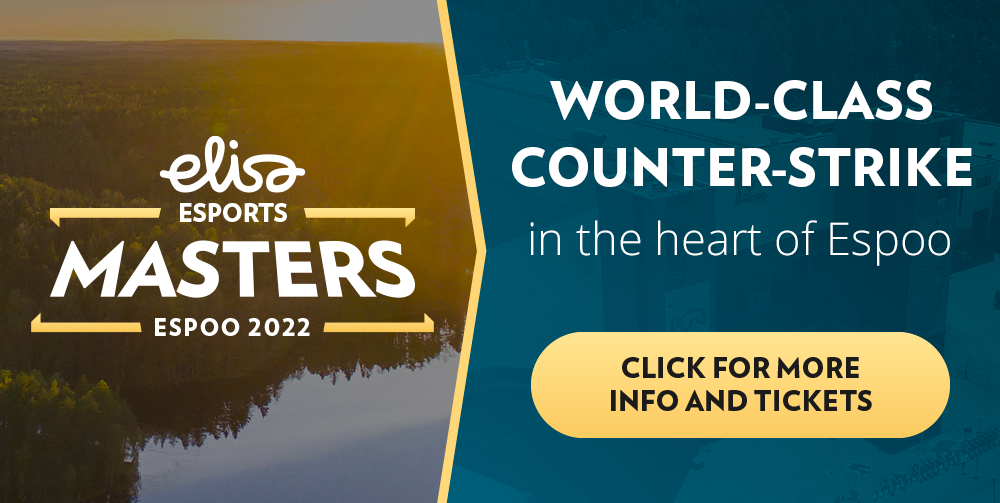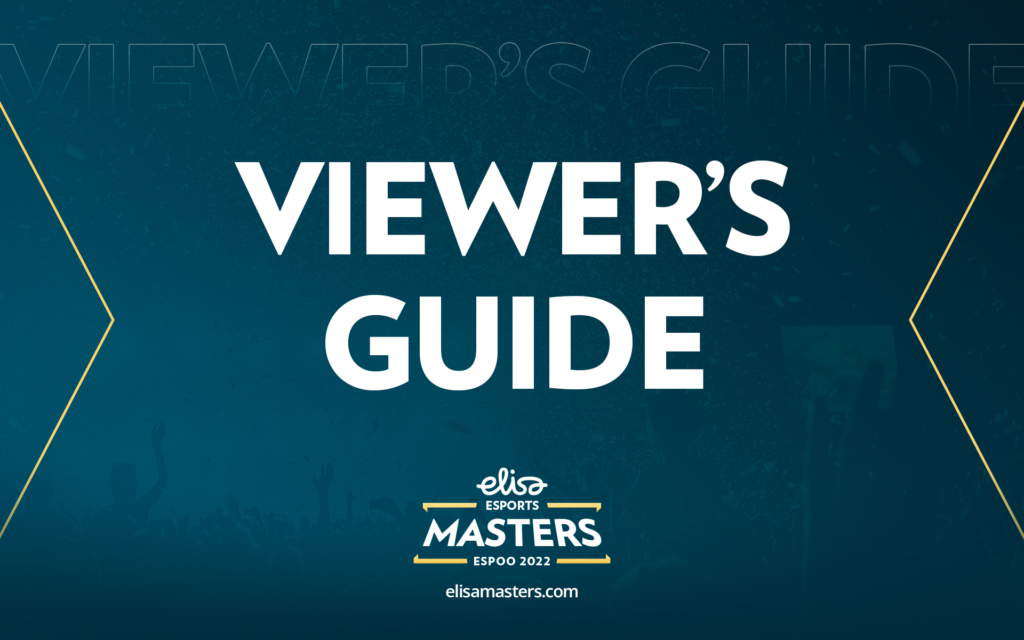 Elisa Masters Espoo '22 starts tomorrow!
Elisa Masters Espoo '22 is the biggest Counter-Strike: Global Offensive tournament in Finnish history. The tournament gathers together World-Class teams to fight for the prize pool of $200,000 and a spot in the Play-In Stage of the prestigious Intel® Extreme Masters (IEM) Katowice 2023, which is one of the biggest events in esports.
Here is everything you need to know about the event.
---
TEAMS
INVITE TEAMS
ENCE
With Finnish roots, ENCE's European roster has played in multiple Elisa Invitational tournaments. Bringing the beloved team to Espoo in front of Finnish fans is something we can't wait for!
BIG
Founded in 2017, the Germany-based organization BIG are a known name in the global esports scene. The team has taken part in many Major tournaments, and this year they secured 3-4th place in IEM Dallas, taking home $20,000 in prize money.
Sprout
German-based Sprout is already familiar to us from Elisa Invitational and IEM Rio. In Rio they showed how strong their form can be, and Elisa Masters Espoo '22 is a great chance for them to show again how talented they are.
FNATIC
Fnatic was the first organization to win three Majors: DreamHack Winter 2013, ESL One: Katowice 2015 and ESL One: Cologne 2015. The orange-black colors are well known in the esports scene, with multiple legends that have played under their name. Even one of our talents, Jonatan "Devilwalk" Lundberg, has previously played in the team.
Complexity
Complexity has been a part of esports for a long time, building a remarkable legacy. Complexity, currently holding #18 in the world rankings, has players from the US, Canada, Norway, and South Africa. We can't wait to see them play in Espoo!
Astralis
A few years back, the Danish star Astralis was feared by everyone, as they won basically every tournament they competed in. We are excited to have the legendary Danish team here in Espoo. We know Astralis office is full of trophies, but surely it fits the brightest souvenir from Elisa Masters Espoo '22!
HAVU
Bringing Finnish teams to the spotlight has always been important to us. HAVU has been a familiar face in the Finnish esports scene ever since its founding in 2017, and they're coming to Elisa Masters Espoo '22 to show the home crowd what they're made of.
Bad News Eagles
Everyone who has followed CS:GO even a bit has surely seen and heard how hard Bad News Eagles fans root for them, and they have proven how much talent they have in this team. Bad News Eagles played in IEM Rio Major and they have shown that they belong in the top-tier events!
ELISA INVITATIONAL ADVERSARIES
HEET
The first qualified team for Elisa Masters Espoo '22 came through Elisa Invitational Spring 2022. Fielding a French roster, the rather new Belgian organization is ready to show how HEETED games can get.
GamerLegion
GamerLegion is one of the two teams that secured their spot from the Elisa Invitational Fall 2022. The European team qualified by winning ex-Finest in the tournament's Semi Finals, but fell to SAW in the Grand Finals.
SAW
SAW qualified to Elisa Masters Espoo '22 by winning against TYLOO in the Semi Finals of the Elisa Invitational Fall 2022. The Portuguese team won against ex-Finest in the Grand Finals, cashing in $12,500.
500
The Bulgarian powerhouse Team 500, previously known as SKADE, won two Elisa Invitational tournaments last year. Qualifying to the event with those merits, Elisa Masters Espoo '22 will be the first LAN event for the team under the new name.
---
TALENTS
As we have amazing teams and partners, we also need amazing talents. Many of these names are familiar from S-tier events such as Major tournaments and ESL Pro Leagues, and we are so happy to bring them to Espoo!
Elisa Masters Espoo '22 Studio Phase will be played from the 16th to the 17th of November.
STUDIO PHASE TALENTS
In the Studio Phase the audience will be entertained by our stunning Caster Lineup:
Ryan "ReTr00" Bernard
Travis "TravCS" Landaw Mott
Teodor "Tedd" Borisov
Jack "Zerpherr" Kelly
William "AnThran" Chafee
Cole "xner" McHenry
ARENA PHASE TALENTS
On the Arena Phase, the crowd will be hosted on stage by Pala "Pala" Gilroy Sen, while Anastasija "Heccu" Tolmačeva will convey the players' feelings to the audience through interviews.
Jonatan "Devilwalk" Lundberg and Halvor "vENdetta" Gulestøl will analyze the games and bring interesting insights with James Banks on hosting duty.
And for all the in-game action, Jamie "TheEternalJay" Martin and Joshua "Dweg" Nathan will keep you entertained with world-class casting!
---
GROUPS
| | |
| --- | --- |
| GROUP A | GROUP B |
| ENCE | FNATIC |
| BIG | Bad News Eagles |
| Sprout | Astralis |
| GamerLegion | Complexity |
| HEET | SAW |
| HAVU | 500 |
---
SCHEDULE
WEDNESDAY 16.11.2022 (STUDIO PHASE)
STREAM A
11:00 – BIG vs. HEET
12:30 – Sprout vs. HEET
14:00 – BIG vs. Sprout
15:30 – BIG vs. HAVU
17:00 – BIG vs. GamerLegion
18:30 – Sprout vs. HAVU
20:00 – Sprout vs. GamerLegion
STREAM B
11:00 – GamerLegion vs. HAVU
12:30 – ENCE vs. HAVU
14:00 – ENCE vs. GamerLegion
15:30 – GamerLegion vs. HEET
17:00 – ENCE vs. Sprout
18:30 – ENCE vs. HEET
20:00 – ENCE vs. BIG
OFFSTREAM
20:00 – HEET vs. HAVU
THURSDAY 17.11.2022 (STUDIO PHASE)
STREAM A
11:00 – Bad News Eagles vs. SAW
12:30 – Astralis vs. SAW
14:00 – Bad News Eagles vs. Astralis
15:30 – Bad News Eagles vs. 500
17:00 – Bad News Eagles vs. Complexity
18:30 – Astralis vs. 500
20:00 – Astralis vs. Complexity
STREAM B
11:00 – Complexity vs. 500
12:30 – FNATIC vs. 500
14:00 – FNATIC vs. Complexity
15:30 – Complexity vs. SAW
17:00 – FNATIC vs. Astralis
18:30 – FNATIC vs. SAW
20:00 – FNATIC vs. Bad News Eagles
OFFSTREAM
20:00 – SAW vs. 500
---
ELISA OPEN SUOMI SEASON 3 – GRAND FINAL
Finnish CS:GO is also represented at the event, when the Grand Final of the Elisa Open Suomi Season 3 is played on stage on Sunday. In the Grand Final, ENCE Academy and HAVU will face off for their shares of the Prize Pool of $10,000.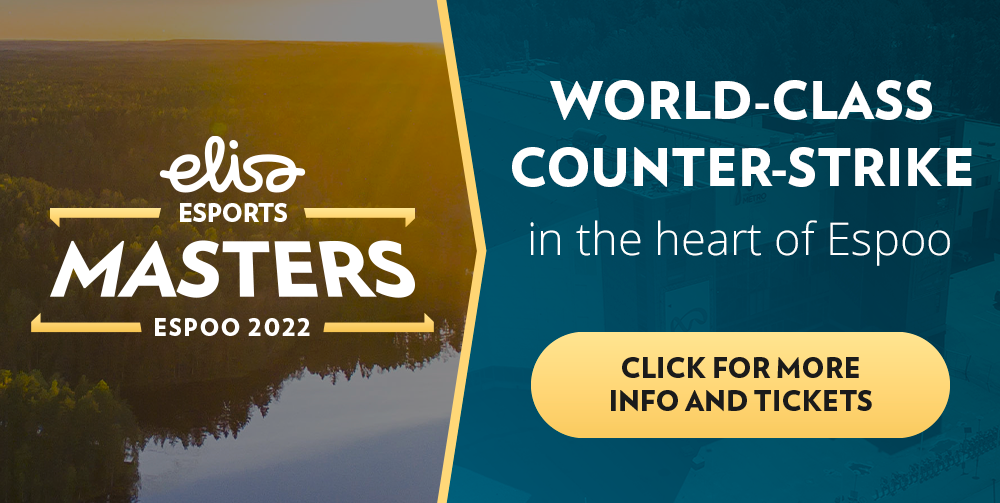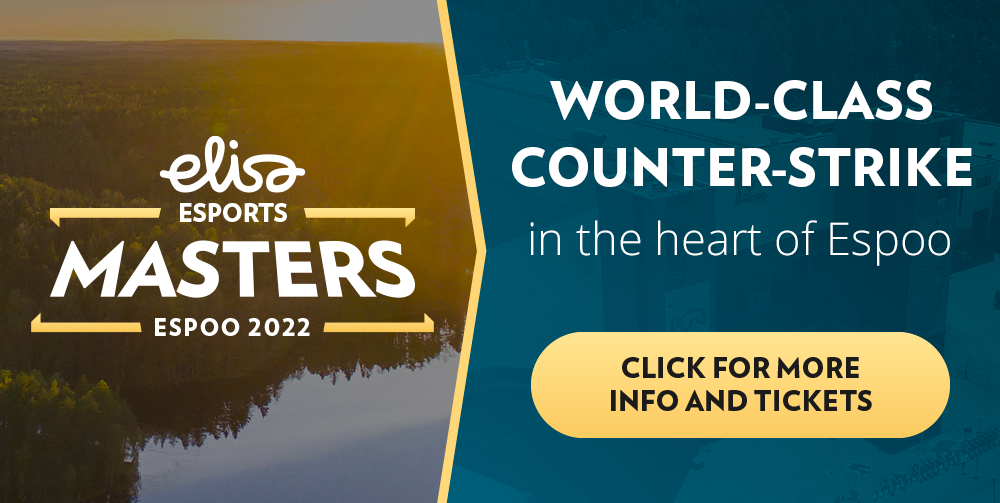 Elisa Masters Espoo '22 is right around the corner, and soon the Espoo Metro Arena looks like nothing before – it will be full of esports enthusiasts and CS:GO fans. We want to make sure that everyone enjoys every minute of the event and our partners help us by bringing lots of activities to the Arena.
ENCE
The big ENCE booth is near the main entrance and it is open to visitors during the whole event. The whole booth is branded to ENCE's and their partners' colors, and there is lot to do for the whole event!
There is multiple PC gaming stations where visitors can try their CS:GO skills with different challenges and there is a chance to win amazing prizes. Also the ENCE Shop is open throughout the event.
With the cherry on the top, on Saturday there will be a meet n' greet with ENCE Academy team and ENCE's main CS:GO roster where you can get a pic and a signature from your favorite players. The schedule for the meet & greet will be announced later, so stay tuned.
VILPE
We all know that people from VILPE are true esports fans, and you can meet them at Elisa Masters Espoo '22. At their booth you can find a photography wall where you can take your perfect event photos. CS Keisari is also found at VILPE's booth, and they bring you a chance to win CS:GO Skins by playing skinpong! CS Keisari also provides thundersticks for visitors so we all can make some noice!
City of Espoo
Get to know the city of Espoo and the Finnish esports history.
HAVU & Kotipizza
HAVU and Kotipizza have joined forces for Elisa Masters Espoo '22, and together they bring a lot of activities for the visitors! During the happy hour you can spin the Kotipizza's Pizzaroulette and win prizes, meet and challenge HAVU's influencers in 1 vs 1 games and meet HAVU CS:GO team in a meet & greet. The schedule for meet & greet will be announced later.
Incoach
At the Incoach's booth you get the best tips for gaming from professional coaches, and you can challenge the coach or your friend in 1 vs 1 games. There's also a CS:GO time challenge, and the winner gets a trophy home!
Keenetic
Enjoy the great atmosphere and take a minute to chill at Keenetic lounge!
KAMK.GG
KAMK's booth is a perfect place whether you want to challenge your friends or you just need a place to relax: KAMK is offering a full 1v1 challenge setup where you can play a friendly CS:GO matchup or try their luck at the official Surfshark 1v1 Tournament on Saturday. On Sunday there is a chance to challenge special guests in games!
Also the Aim Lab Challenge will be running continuously during venue opening hours, and those with the highest score at the end of each day have the opportunity to win product carepackages from KAMK's partners.
If you need to relax a bit, KAMK is offering a relaxed console gaming zone provided by Genelec, which includes a comfortable couch, immersive speaker setup and PS5.
Those who participate in any of KAMK.GG activities have a chance to win amazing prizes throughout the event weekend. Also visitors can learn more about one of Europe's-only full BBA degrees offered in Esports Business at Kajaani University of Applied Sciences!
Omnia
In Espoo Metro Arena you have a chance to learn more about Omnia and the possibilities to study there. You can challenge Omnia's students on 1v1 CS:GO matches.
Nokia
Nokia brings Nokia Student Network Hackathon finals to Elisa Masters Espoo '22. The 24-hour event will start at 17.00 on 18 November at Metro Arena. The competing teams are creating solutions for a new challenge. The themes of the challenges lay in our responsibility to develop technology to address the world's challenges.
Kitchen Joy
Prepare your tastebuds for incredible flavors, because Kitchen Joy is coming to Metro Arena with tasty Thai Cubes. Try different kinds of Thai Cubes and find your favorite!