Elisa Masters Espoo '22 Arena Phase
Elisa Masters Espoo '22 Studio Phase is continuing today with Group B matches. You can follow the Studio Phase on Elisa Esports' Twitch Channels.
All 12 teams will attend in Studio Phase, where 6 teams secure their place in the Arena. The Arena Phase will be played in front of a live audience at Espoo Metro Arena and will be also streamed on Twitch.

If you are looking for a Viewers Guide or Schedules, you'll find them here: Elisa Masters Espoo '22 Viewer's Guide.
If you want to know what to do in the Arena besides enjoying the matches, you'll find our partner booth information here: Elisa Masters Espoo '22 is full of activities – Here's a list of Partner Booths!
---
Arriving to the Espoo Metro Arena
Espoo Metro Areena is located to Urheilupuistontie 3, 02200 Espoo. You can arrive by public transportation or by your own car.
Public transportation
Easiest way to find the best option for public transportation is to use HSL Route planner.
The closest metro station to Espoo Metro Arena is Urheilupuisto station, and it's about 500 meters away from the arena.
The local buses which go by the Metro Arena:
114 Tapiola (M)-Leppävaara
115 Tapiola (M)-Mankkaa
119 Tapiola-Niittykumpu
Own car
If you plan to arrive with your own car, please notice that there is a limited amount of parking space available. The parking during the event is free.
---
Entering to the Espoo Metro Arena
Remember to get your tickets before arriving at Espoo Metro Arena! Unfortunately, we don't sell tickets at the doors, but you can buy the ticket with your phone. Get your ticket here: elisamasters.com.
Lower Seat, Drinking Seat, and Floor Seat tickets– use the main entrance.
Legendary and Premium VIP tickets – use the club doors.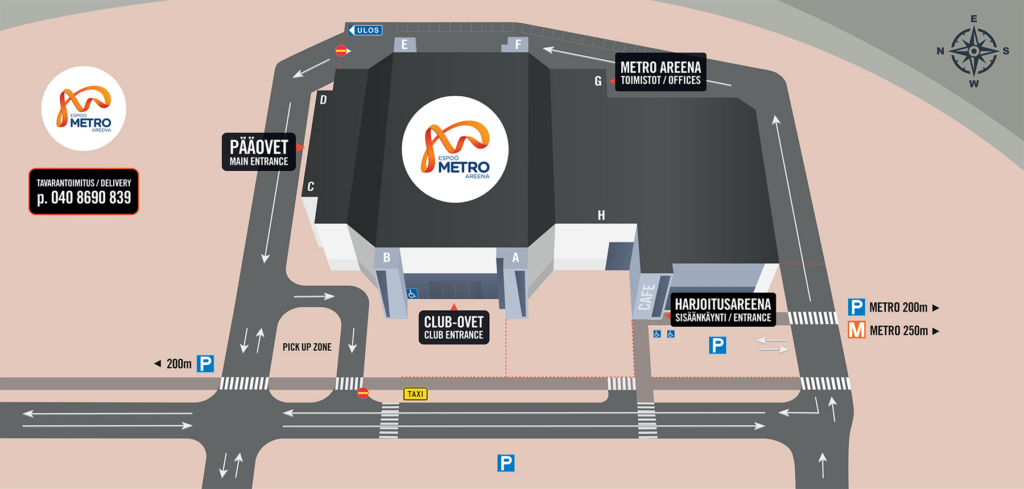 Take your ticket ready when entering to the Metro Arena, and prepare for security check.
All visitors must be prepared to show the contents of their bag at the gate/entrance. Prohibited objects, substances, and foods/drinks are removed at the doors during the entrance inspection. By leaving prohibited items at home, you speed up the operation of the security check significantly.
There is a cloakroom available for the visitors (3€/customer).
During the event, the Restaurants and Bars of Metro Arena will be serving you.
See you in the Espoo Metro Arena!