Elisa to launch an affiliate tournament with the ESL Pro Tour – Espoo to host the Elisa Masters Espoo '22
Elisa is organizing an extraordinary arena event Elisa Masters Espoo '22. The event will be held at Espoo Metro Arena on 18th – 20th of November 2022. The tournament will have its winner invited to compete within the ESL Pro Tour at Intel® Extreme Masters (IEM) Katowice 2023.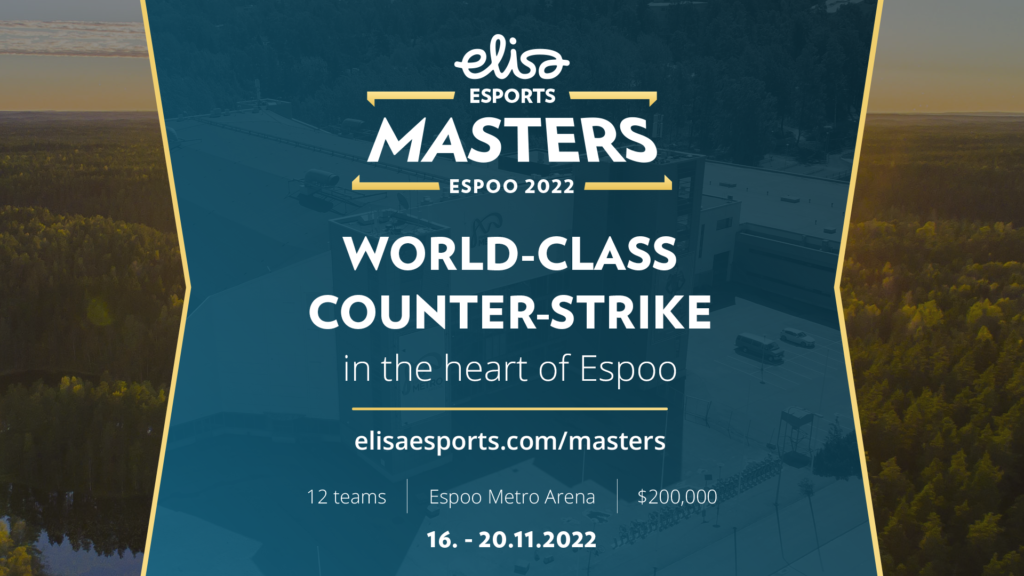 The Elisa Masters Espoo '22 tournament is the world's first Official ESL Pro Tour Affiliate Event for CS:GO. The tournament will be handing out a total of $200,000 in prize money and a spot for the winner in the Play-In Stage of the prestigious IEM Katowice 2023, where more than 100,000 esports fans gather each year to watch the world's top teams compete for a prize pool of $1,000,000.
Among the top teams in the world, ENCE, a Finnish powerhouse has confirmed its participation
The 12 teams competing in the Elisa Masters Espoo '22 tournament will be chosen in two ways. 8 teams will be invited based on their previous success. The first invite team is ENCE, which holds the 2nd place in the ESL World Ranking. 4 teams will find their way out of Elisa Invitational, the international tournament series organized by Elisa Esports. The event will provide visitors with gaming experiences and esports entertainment unprecedented in Finland, throughout the weekend. The tournaments feature Counter-Strike: Global Offensive (CS:GO). The age limit for the event is 16 years – 13 years with an adult guardian.
Tickets are available now at: elisaesports.com/masters
"Esports is one manifestation of digitalization – digisports, that keeps rising in its popularity. As a pioneer in digitalization, we want to be along to learn this phenomenon and create the industry's future. We've actively organized esports tournaments since 2019 and this is thus far the greatest step in our esports endeavours. As a Finnish operator, we want to give Finnish players a path to international world-class tournaments", says Mika Lepistö, Elisa's Director of New Business Development & Partnerships.
ESL Gaming's Director, Product Management Shaun Clark also welcomes the partnership:
"We are thrilled to be inviting the winner of the Elisa Tournament Series into the ESL Pro Tour through this affiliate program. This partnership is a great starting point for this new initiative as we look to expand the global touch points of the EPT.

Our EPT Championships, IEM Katowice & IEM Cologne, are designed to have top teams represented from all corners of the globe. With this addition, we continue to add to what makes these tournaments global spectacles within the CS:GO competitive calendar."
The City of Espoo is a partner of Elisa Masters Espoo '22:
"Esports and gaming are a big phenomenon internationally and they provide young people a pathway and community to develop into a professional, and even a route to working life. Espoo wants to be a pioneer in promoting a fast-growing digital culture and business", says Mervi Heinaro, Deputy Mayor for Economic Development, Sports and Culture, City of Espoo.
Elisa Masters Espoo '22 in a nutshell
Time and Date

Tournament Duration: 16th – 20th of November 2022

Studio Environment (not open to public): 16th – 17th of November 2022

Espoo Metro Arena (open to public): 18th – 20th of November 2022

Format

Groups

2 groups of 6 teams Round-Robin

Group winners qualify to the Semi-finals

2nd and 3rd placed teams qualify to the Quarter-finals

Playoffs

Single-Elimination bracket

The tournament will be handing out a total Prize Pool of $200,000 and the winner will be invited to the Play-In Stage of the prestigious $1,000,000 IEM Katowice 2023
Additional info
The age limit for the event is 16 years and with and adult guardian 13 years
Tickets and more info about the tournament can be found at elisaesports.com/masters