Elisa Nordic Championship Denmark advances to playoffs – check teams and schedule!
Denmark starts playing their playoffs on the March 11th. With total prize pool of $12.500, eight teams are battling for the spot into Elisa Invitational of the spring 2021.
Teams are Copenhagen Flames, MASONIC, Tricked Esports, QBF, YNITY, AGF, Lyngby Vikings and DREAM.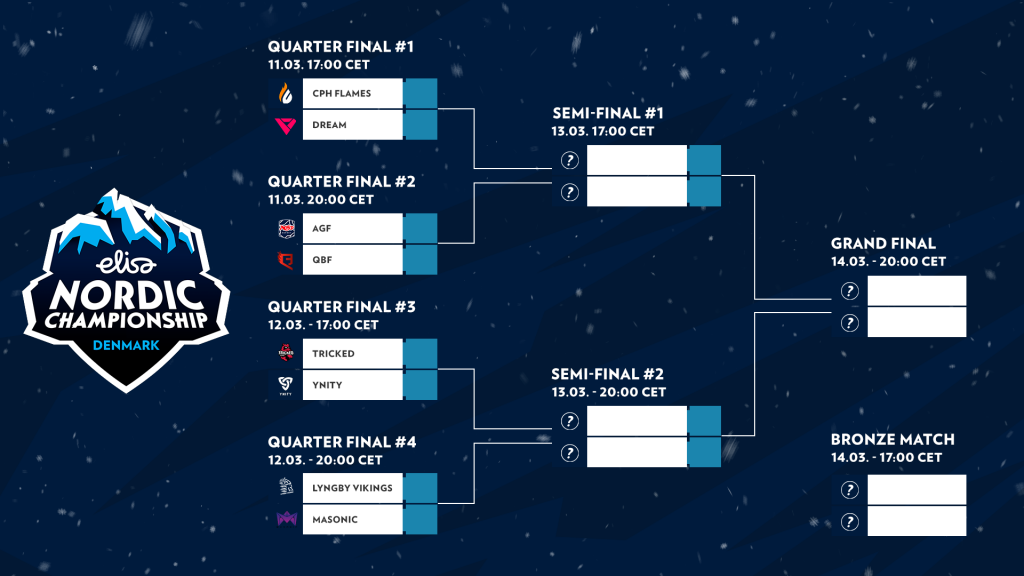 Copenhagen Flames starts the quater finals against DREAM on March 11th. Later at 20CET AGF and QBF battles each other on the Thursday evening. While Tricked Esports meets YNITY on the March 12th, Lyngby Vikings and MASONIC closes the Friday at 20CET.
Schedule – Qualifiers
Date CET
VS.
Quater Finals #1
11.3.2021 17.00
Copenhagen Flames vs. DREAM
Quater Finals #2
11.3.2021 20.00
AGF vs. QBF
Quater Finals #3
12.3.2021 17.00
Tricked Esports vs. YNITY
Quater Finals #4
12.3.2021 20.00
Lyngby Vikings vs. MASONIC
There is two semi-finals on March 13th – at 17CET and 20CET. Because the Bronze match on Sunday, all four teams are playing also on the March 14th. After the third place of the tournament has resolved, the Grand Final takes place at 20CET and the winner will be seen in the Elisa Invitational.
Schedule – Finals
| Event | Date CET |
| --- | --- |
| Semi-finals #1 | 13.3.2021 17.00 |
| Semi-finals #2 | 13.3.2021 20.00 |
| Bronze Match | 14.3.2021 17.00 |
| Grand Final | 14.3.2021 20.00 |
All Elisa Nordic Championship matches are shown in Twitch and in Elisa Viihde Sport.