PSL Elisa Viihde PUBG Fall Challenge – Final results & Team Liquid interview
PSL Elisa Viihde PUBG Fall Challenge is finished and we have a brand new champion – Team Liquid! This tournament had one of the greatest endings we have ever seen in competetive PUBG, since over half of the lobby had a real chance to win it all when we landed to last map. Ultimately Team Liquid kept their cool and took both Chicken Dinner and the trophy in the last map. Tornado Energy placed second and our cinderella story outside invitational teams, shiftW, took the third place. Natus Vincere dropped down to fourth by just one point and that shows how tight the standings were. Here is the full final results.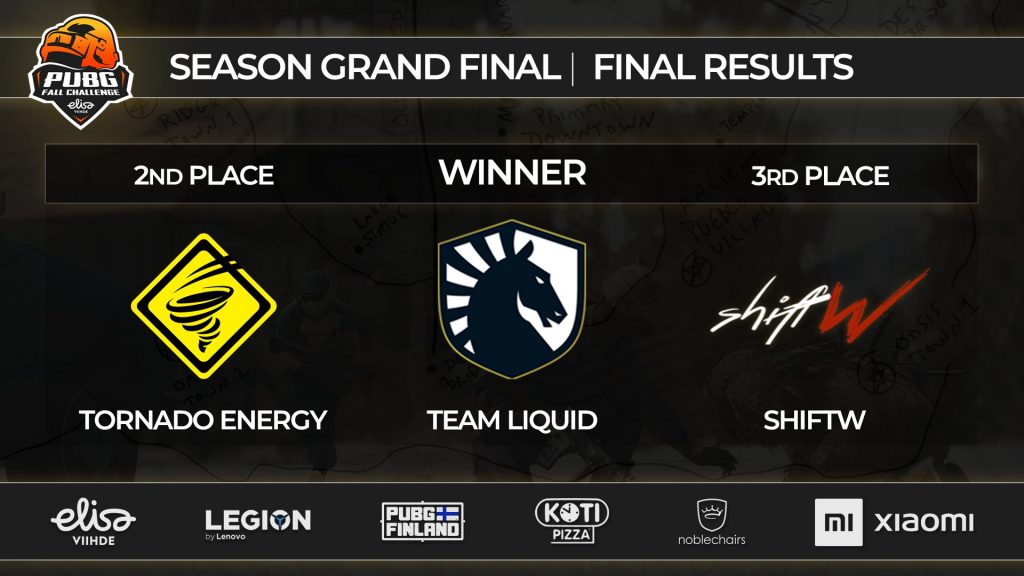 Team Liquid – Winner interview
Let's start with a classic: How does it feel right now?
"It feels pretty good, because we started off rough today and we're kinda known for choking. The last game was pretty rough for us in terms of the circle, we lost jeemzz kinda early and we had to play as three, so winning after a rough game like that makes it feel extra good." –ibiza
Finals were very close and tight the whole time. What made you perform better than the competitors in the final map and other deciding maps?
"We played the last game very slow, we took our time and played together. We expected some crazy stuff to go down like it always does on the last game of a tournament in PUBG." –jeemzz
Was it a surprise to you that the final lobby was this even right to the final seconds?
"Yes, i think it was the first time 9 teams had the chance to win before the last game" –mxey
You didn't get a trophy from PCS 2. Was this championship kind of a payback?
"Not really, it was more of a confident booster for us as a team. After not winning PCS 2 we set a goal of winning as many tournaments as possible, and this is only the beginning of that goal" –clib
What are your next goals for the rest of the year?
"Working towards becoming more consistent so that we can win every tournament going forward" –jeemzz
Anything else you want to say for your fans or anyone involved with PSL?
"To all of our fans, thanks for supporting us through the ups and downs..Thanks to Elisa esports for hosting this event. A special thank you as well to our sponsors, Monster Energy, Honda, and Alienware." –Team Liquid PUBG
Stay tuned, since we will be back with more PUBG action!