Monster Energy energiaa nostattamassa Elisa Masters Espoo 2023 -tapahtumassa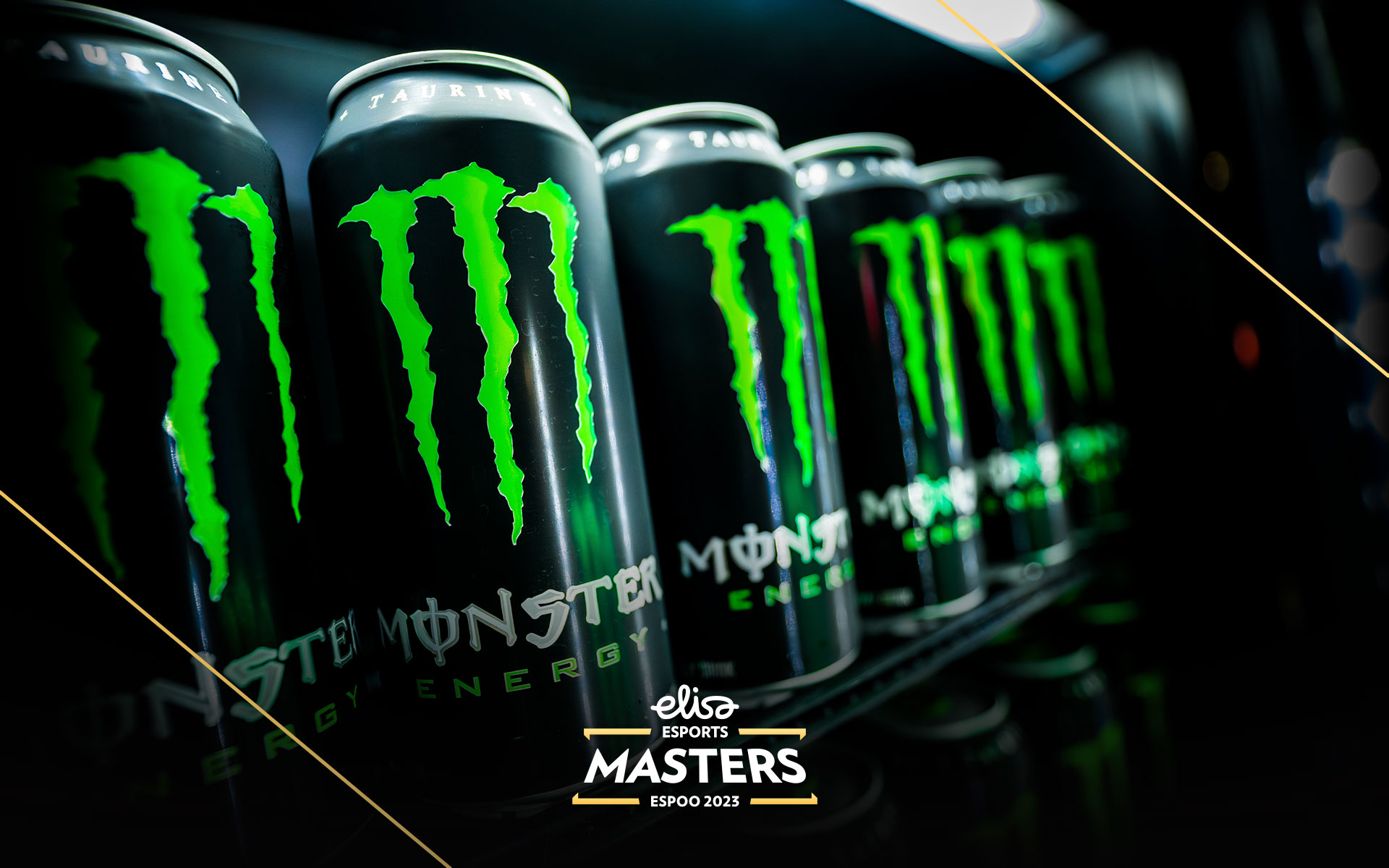 Elisa Masters Espoo 2023 -tapahtuman odotuksen kasvaessa olemme innoissamme voidessamme julkistaa Monster Energyn viralliseksi energiajuomakumppaniksi, joka tuo tapahtumaan ennennäkemättömän energiasysäyksen. Monster Energy on enemmän kuin pelkkä energiajuoma - se on elämäntapa, jota adrenaliinin himoitsijat ja pelaajat kannattavat, mikä tekee siitä täydellisen lisän esportsin maailmaan.
Elisa Masters Espoo 2023 -tapahtuman kumppanina Monster Energy tuo areenalle ikonisten energiajuomiensa lisäksi myös intohimonsa intensiivistä kilpailua ja huippusuoritusta kohtaan.
"Elisa Masters on synonyymi ensiluokkaiselle esports-tapahtumalle, ja Monster Energyn ottaminen mukaan viralliseksi energiajuomakumppaniksemme kuvastaa sitoutumistamme tapahtuman kaikkien osa-alueiden energisoimiseen", Olli-Pekka Villa, Head of Elisa Esports totesi. "Heidän kansainvälinen arvostuksensa ja vankkumaton omistautuminen peliyhteisölle tekevät tästä kumppanuudesta erityisen jännittävän."
Tämän dynaamisen kumppanuuden kunniaksi Monster Energy tarjoilee uusimpia ja suosituimpia makujaan, jotta sekä kilpailijat että katsojat pysyvät virkeinä koko tapahtuman ajan. Uppoudu peliaktiviteetteihin, jotka lupaavat mukaansatempaavan kokemuksen, joka ilmentää sekä Monster Energyn että Elisa Mastersin henkeä.
Merkitse kalenteriisi Elisa Masters Espoo 2023, jossa Monster Energyn piristävien makujen ja esportsin tarjoaman adrenaliinin kohtaaminen takaa unohtumattoman turnauskokemuksen.
Stay tuned and get ready to unleash the beast!
Elisa has signed a co-operation agreement with the City of Espoo. The agreement brings the Elisa Masters Espoo 2023 event to the Espoo Metro Arena on November 29 – December 3, 2023. The event gathers together esports enthusiasts, professionals and spectators from around the world. The first Elisa Masters Espoo event organized last year was a success, and it gathered more than 8,000 visitors to the venue.
Elisa Masters Espoo will be held for the second time at the Espoo Metro Arena on November 29 – December 3, 2023. The event will feature a total of eight top teams, who will claim their place either by invitation or based on their previous success. In the upcoming event, both GamerLegion, who triumphed in the Elisa Invitational Winter 2023 season and secured the second spot in the Major tournament, as well as the yet-to-be-decided winner of the ongoing Elisa Invitational Spring 2023 season, will be among the competing teams. In addition, the event will also feature the Finnish Champion, who will be determined in the Elisa Esports eSM 2023 tournament held in August.
"Elisa Masters succeeded in establishing its position as one of the flagship events in the Counter-Strike competitive calendar. We are excited to be able to expand our partnership with the City of Espoo and continue to strengthen the esports culture. The event offers an exceptional opportunity for Finnish talent to shine on a global level", says Mika Lepistö, Director of New Business Development and Partnerships at Elisa.
Elisa Masters Espoo 2023 starts on November 29th with the Studio Phase. The Group Decider matches and Playoffs can be followed live at the Espoo Metro Arena on December 1 – 3, 2023. Elisa brings its game and technology innovations as well as a fast 5G network connection to the event, which guarantees an engaging and unforgettable experience for visitors on site and viewers following from home.
The City of Espoo, known for its vibrant and tech-savvy community, is looking forward to organizing a groundbreaking esports event in co-operation with Elisa. The co-operation emphasizes the city's commitment to promoting technology, innovation, and a dynamic environment for esports enthusiasts and consumers.
"Esports is an important part of digital culture and the spearhead of game culture. For Espoo, it is important not only to have a successful and communal experience in the event itself, but also to reach a wide player community and create links for players to esports clubs, education and working life. This is part of our work to develop the gaming industry cluster in Espoo", commented Mervi Heinaro, Deputy Mayor for Economic Development, Sports and Culture, at the City of Espoo.
The previous Elisa Masters Espoo event was held in November 2022, and it received overflowing praise as a stage for high-level esports competition. The event brought together esports enthusiasts, professionals, and spectators from around the world. The success of the Elisa Masters Espoo 2022 event laid the foundation for the starting partnership with the City of Espoo.
Elisa Masters Espoo 2023 in a nutshell:
Elisa Masters brings the world's top players to Espoo
The group matches will be played in the Studio Phase on November 29 – 30, 2023

Two four-team Double Elimination brackets (opening matches Best-of-1, rest Best-of-3)

The two best teams in the groups advance directly to the Playoffs

Group Decider matches and Playoffs will be played in front of the crowd at Espoo Metro Arena on December 1 – 3, 2023

One four-team Single Elimination bracket (Best-of-3)

Teams:

GamerLegion (Elisa Invitational Winter 2023)

Winner of Elisa Invitational Spring 2023

Winner of Elisa Esports eSM 2023

$200,000 prize pool
The event is not recommended for family's youngest
Tickets and more info about the tournament can be found at elisamasters.fi

Tickets: elisamasters.fi
The tournament can be followed in English from Elisa Esports' Twitch channel twitch.tv/elisaesports
For the latest news regarding everything Elisa Esports, follow @elisaesports on Twitter ja Instagram!